10 Years, 10 Chefs, 10 Trees
Celebrating 10 Years of Lime Wood
To mark our 10-year milestone we called on our Chef friends, each of who have been part of our journey, to plant 10 of our favourite fruit trees in the gardens, celebrating our commitment to food and the environment.
Our rural retreat has been moulded by our New Forest surroundings, and this tree planting is our way of saying thank you and giving something back.
Joined by our Chef friends
Angela and Luke were joined by James Golding (THE PIGs), Mitch Tonks (Seahorse Restaurant), Neil Borthwick (The French House), Valentine Warner (What to Eat Now), Matt Prowse (Seahorse Restaurant), Nieves Barragán Mohacho (Sabor), Chris Davies (Lime Wood), Sheila Hulme (Raw & Cured). Each chef has carefully selected a tree they know and love, which can be enjoyed by guests for many years to come with the produce being incorporated into our menus.
Our trees will continue to flourish, celebrating the amazing food and friendships grown over the last 10 years, with new trees being planted by future Pop Up Chefs.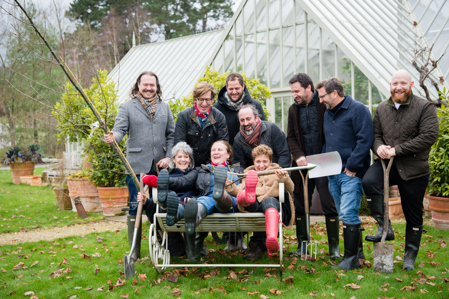 Angela & Luke
"I feel very proud to celebrate this 10-year milestone as part of the Lime Wood family. I joined the team 6 years ago when we opened Hartnett Holder & Co and now can't imagine not heading down to the New Forest to work with Luke and the brigade. It's a seriously special place and marking the moment by planting trees that we can use in our future menus, with a great group of friends, is a time I will remember for years! " – Angela Hartnett
"We had to have an English Oak - it is such an iconic part of our forest landscape and produces the best bark/wood for smoking meats and fish" – Luke Holder