Hartnett Holder & Co

Hartnett Holder & Co

Hartnett Holder & Co

Hartnett Holder & Co
Updates from HH&Co
Lime Wood is open! We have put in place measures to ensure the safety of our guests and team, in line with Government guidance, which you can view here. Please note guests can only mix indoors with members of their current household.
Don't forget to visit our Gift Shop for the perfect way to treat someone special this Christmas!
HH&CO
Italian influenced and full of character
Hartnett Holder & Co is a relaxed, stylish and comfortable restaurant - full of character, yet unpretentious. Angela Hartnett and Lime Wood's Luke Holder, with their team, create locally sourced Italian dishes with a respectful nod to the seasons. 
At Hartnett Holder & Co the cooler weather means we have ventured inside from the terraces and opened up new dining spaces in The Scullery and Cedar Room, lit the fires and stocked up on our Tuscan red wines ready to welcome you for a long lazy lunch or a relaxed dinner. 
You can expect a menu of Italian influenced dishes, pulling together both Chefs much admired signature styles! As well as HH&Co's classic menu, you can also tuck into The Scullery's menù Toscano! Luke and Angela's celebration of Tuscan dining – served family-sharing style and only available in The Scullery, it is all about simple, seasonal ingredients that are sourced locally.
We are taking bookings of up to six people – you can be from multiple households or one household, but six is the magic number! Tables of six are available to book in HH&Co and the Scullery.
Meet the Chefs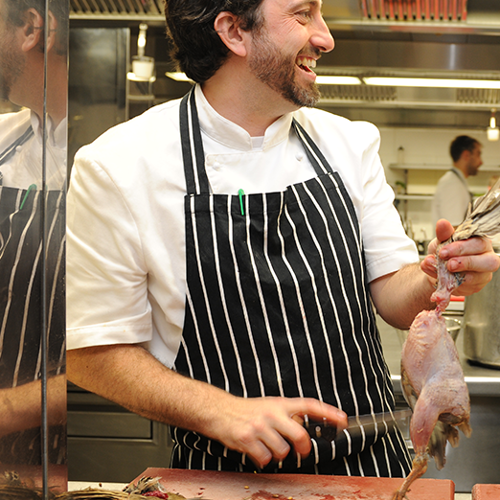 LUKE HOLDER
He's worked in some of London's busiest and most exclusive restaurants including Orrery, The Sloane Club, and the Oxo Tower on the South Bank. Luke then spent a year cooking in the Italian kitchen of Enoteca Pinchiorri, 3 Michelin stars, in the heart of Tuscany, Florence - this experience ultimately changed his philosophy on food forever and firmly placed his focus on cooking locally and seasonally, at the highest level.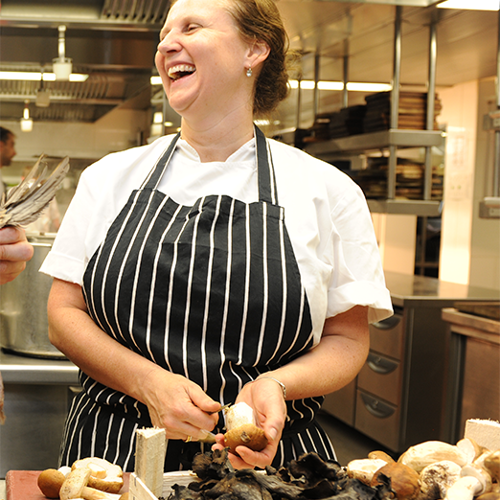 ANGELA HARTNETT
Angela is one of the UK's most loved chefs and restaurateurs. Angela worked under Gordon Ramsay at Aubergine, and then under Marcus Wareing where she soon became Head Chef at Pétrus. In 2004 she gained her first Michelin star. In 2008 she launched Murano in Mayfair, and in 2012 joined forces with Luke to open HH&Co. The following year she opened her first Cafe Murano, a brassier little sister to Murano, and then went on to open another two by 2019. In 2015 Angela joined the team at our sister hotel on the slopes, Portetta in Courchevel, where she oversees the kitchen of Cucina Angelina, the hotel's restaurant!
Menù Toscano
New This Autumn
Only in the Scullery! Family-style Tuscan set menu - £67.50
We are not only passionate about great Italian food and the rustic simplicity of fresh natural home-grown produce, but we also love the informal and relaxed way of eating for which the country is renowned! You don't have to be Italian to enjoy the Italian way of bringing together family and friends to share a meal – discussing the day over home-made food and delicious wine.
Menù Toscano is Luke and Angela's celebration of Tuscan dining. Only availably in The Scullery, it is all about simple, seasonal ingredients that can be sourced locally – expect a menu of rich meats, fish and game as well as home-made pastas, charcuterie and Angela's traditional family favourite pud!
Charcuterie is cured with the best of the regions herbs and spices, the catch of the day is grilled over English charcoal and served on the bone with salt and lemon, meat is locally sourced and flavoursome, peasant soups are thickened with rustic bread and ragouts and regional pasta dishes using traditional Tuscan techniques are hearty and warming.
All finished off with our family-style Tiramisu!  
This menu is designed to be shared with the whole table so it is currently only available to households and bubbles.  Just as perfect for a table of 2 as it is for 6!
If you are a 2 you can choose between fish or meat for secondi, for tables of 3 – 6 your secondi will include both fish and meat dishes.
This is a family-style set menu with dishes created using traditional techniques; dietaries will be catered for where possible but the menu is best enjoyed as designed.  
Sample Menus
Each day a selection dishes on our menus change with the seasons
The Wine Cellar
With traditional style vaulted ceiling our Wine Cellar is a real treat for the wine buffs out there. We are really proud of our extensive wine list that has been many years in the making!
Have a look at our extensive Wine List, which was awarded the Tattinger Wine List of the Year for 2015 and again, for the second year running at the 2016 Conde Nast Johansens Awards. It also scooped the award for the Most Innovative and Exciting Wine List at this year's Conde Nast Johansens Awards 2016 and 2017!
For more information feel free to email our Head Sommelier on wine@limewood.co.uk
WHEN IS HH&CO OPEN?
In line with the latest Government guidance, Lime Wood and HH&Co are closed Thursday 5th November - Tuesday 1st December. 
When we re-open last orders in the restaurant are taken at 14.30 and 20.30 due to the 22:00 curfew, but you can graze in the Courtyard Bar all day!
LUNCH: 12:00 - 14:30
Dinner: 18:00 - 22:00