Kitchen Table
If it could talk it would have some stories to tell
KITCHEN TABLE
Most of life happens at the kitchen table – a place of connection and comfort. There's something about sitting at the kitchen table and eating as a family that brings a household together – it becomes a real daily event!
At HH&Co we believe the best meals are those shared with friends and enjoyed with the much loved Italian family approach to eating. So step into our kitchen and gather around our kitchen table; its large, antique and well-worn and seats up to 8.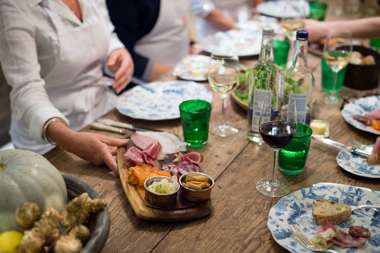 A real Italian family style feast!
On the Kitchen Table we offer our Tavolo Cucina menu which is a sharing menu for you and your guests to enjoy.
Once the menu has been decided upon on the night, our Sommelier will then visit to suggest some great pairing wines for you, either for each course or a couple of wines to last the duration of the meal, whichever you prefer.
The Tavolo Cucina Menu normally takes around 2/2.5 hours, but some guests choose to stay for a few hours, it really depends on how much time you would like to spend with us!
Lunch or Dinner on a bespoke menu from £90 per head
 
Wine pairing is available from £95 per person.
Please call our events team on 02380 287177  for reservations or email events@limewood.co.uk