EAT: Chilled Asparagus Gazpacho - Amelia Freer
Gazpacho or Andalusian gazpacho is a cold soup made of raw, blended vegetables and this seasonal special celebrates our English Asparagus season! 
Chilled gazpacho of any kind is such a joy on a hot day. The core ingredients change as the season progresses as gazpacho is not just reserved for tomatoes – this one is all about asparagus. These juicy little stems contain important vitamins, minerals, and fibre to help support our digestion, and are only in season for a few weeks during May and June so I celebrate this short season as much as I can. This soup is a very easy, on the run option but also a lovely starter to serve to guests (and so pretty, don't you think?).
Amelia x
Chilled Asparagus Gazpacho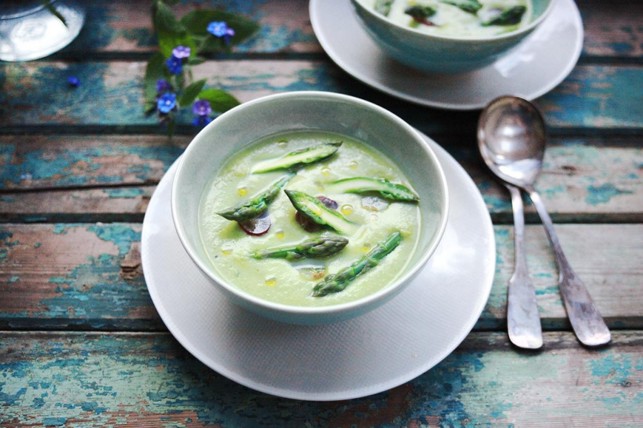 VEGAN, GLUTEN-FREE, DAIRY-FREE
Serves 4-6
What do I need...
400g asparagus
1 avocado
50 ml coconut milk
1 small cucumber or a 60g piece
20 g basil
10g mint
small clove of garlic
pinch of salt
juice of 1 lime
700 ml ice cold water
a handful of grapes, halved for garnish – optional
What do I do...
Remove the woody ends of the asparagus and blanch for 1-2 minutes depending on thickness, refresh in ice cold water. Trim 20 tips and save for garnish.
Blend the remaining asparagus with the rest of the ingredients with half of the water until creamy and smooth. Add the remaining water, adjusting if necessary to get the texture, it should be thick and creamy, but still pourable.
Chill for a few hours in the fridge before serving with the asparagus tips and a scattering of grapes.
For more recipes and nutritional advice from Amelia why not pick up one of her books. Find out more here
Looking after yourself has never been easier or more straightforward than with Amelia's latest book Simply Good For You - over a hundred delicious, quick and non-nonsense recipes that are as healthy as they are tasty.