EAT: Ricotta & Lemon Tortelli
This straightforward tortelli recipe is from Angela's family's home region of Emilia Romagna.
Tortelli di Ricotta al Profumo di Limone
Ricotta & Lemon Tortelli
This filled pasta is from Angela's family's home region of Emilia Romagna. The fold is pretty simple and is a good place to start with filled pasta. The filling below is very typical of the region but you can be creative and fill these little parcels with whatever you like! 
We have just combined it with a simple Butter Emulsion sauce so the flavours really zing. Just pile on the Parmesan!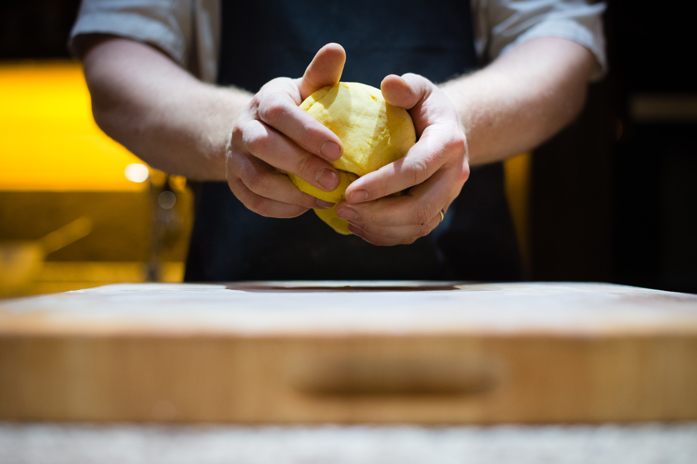 What You Need…
Pasta Dough - Try Angela and Luke's recipe 
400g Ricotta Cheese
100g Parmesan – finely grated
1 lemon - zested
Handful of chopped herbs (parsley, oregano or basil work well)
Salt & Pepper (to taste)
HOW TO MAKE IT..
Combine all the ingredients in a mixing bowl and season to taste. 
Roll your pasta dough into long even sheets. If you have a pasta machine try to ensure that the sheets are of the same width as your rollers all the way along. If you don't have a pasta machine then your rolling pin can double up as a pasta roller. Mimic the action of a pasta maker and roll out a small piece of dough until it's paper thin, then use a knife to cut it.
Once your dough is paper thin divide the sheets horizontally depending on how big you like your parcels.
Place appropriately sized amounts of your filling along the centre of your sheet of pasta, leaving about half an inch between each one. It is important that you don't have too much filling for the size of the pasta sheet, otherwise when you come to seal the tortelli, the filling is likely to burst through the pasta.
When you are ready fold the top half of your pasta over the balls of filling and using your two index fingers, firmly press down either side of the filling to expel all of the air.
Fold the bottom half of the pasta sheet up and over and repeat the process with your index fingers.
When you are happy that the parcels are free of air pockets and firmly sealed, take a serrated pasta cutter (or just a knife if you don't have one of these) and divide into individual Tortelli.
Place the pasta parcels onto a tray dusted heavily with polenta and leave uncovered in the refrigerator until required.
Cook in a large pot of salted boiling water for 2 minutes or until tender.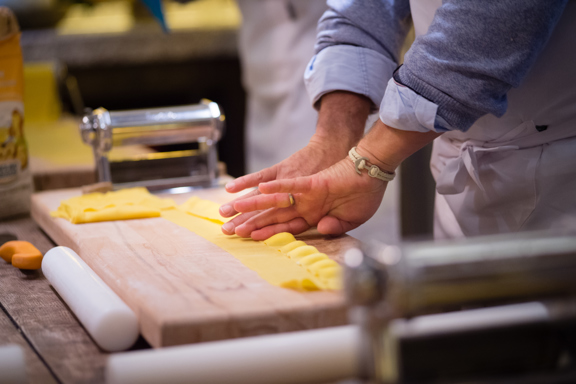 Butter Emulsion
This is essentially a very basic butter sauce that we use to dress most of our filled pastas here at Lime Wood. The pasta filling is what you want to taste so complicated sauces are not the way to go. This works brilliantly and takes seconds!
By rule of thumb, we say 5ml of water or stock to 15g of butter, so the recipe below should be enough to dress pasta for 4 people. It must be made in the seconds before your pasta is cooked and due to be drained so timing is everything!!
What You Need…
20ml Water or Light Veg / Chicken Stock
60g Cold Salted Butter – cut into cubes
What You Do…
Heat the water in a suitable pan (enough for you to thoroughly toss the pasta through the sauce) until it boils
Once boiling, whisk in the butter until a thickened sauce forms. Do not over heat after this point as the butter will split 
Drain your pasta and toss immediately through the emulsion
Serve immediately with your chosen garnish… and lots of Parmesan!
Buon appetito!