Online v Face to face
Our Herb House Pilates teacher Juliet shares her lockdown experience and the change from teaching her classes in person to online.
Juliet is a fitness professional for nearly 20 years, having started out as a personal trainer she specialises in Pilates. She has picked up many qualifications in Level 3, Level 4, Reformer, Cadillac, Pre and Post Natal, Pilates and neurological disorders, Exercise and the menopause and Barre.
Teaching online
Since last March I think it is fair to say that we have all learned many new skills. Perfecting banana bread, knitting, upcycling old furniture and home haircuts to name but a few. One big lesson for most of us has been working and communicating online. I for one have a whole new vocabulary. This time last year, if you had mentioned Zoom to me, I would have immediately thought of Fat Larry's band and the prospect of teaching via a webcam was terrifying.
Fast forward a year and my home looks like a recording studio from where I run my entire business. My daily commute, like so many is to just walk downstairs.
Yet here we are now, all pretty au fait with logging on, basic troubleshooting and feeling very comfortable with the online set up. We are if nothing else, resourceful beings. I know we can all see a huge number of positives with our "at home and online" lives but of course, it has it's pitfalls too.
Being online means that no matter where in the world you are, you can join in. Friends and relatives can see each other and join the same class together from wherever they are. I always open my classes 15 mins early so that we can re-create the social side of coming to a class. Friendships have been formed and far-flung friends love to see one another. However, convenient as it is, there is no way it can make up for a wander into Raw and Cured for a post-workout smoothie or better still, a cocktail in the hotel.
I now teach in many countries as well as all over the UK. As a Teacher Trainer, I have done a presentation on taking your business online and it is now used by Future Fit Training Ltd. as one of their training modules. I have taken advantage of the online access by adding workshops and Masterclasses to my business for fellow teachers who don't have to worry about travel and childcare and can develop their learning from home. It is incredibly convenient.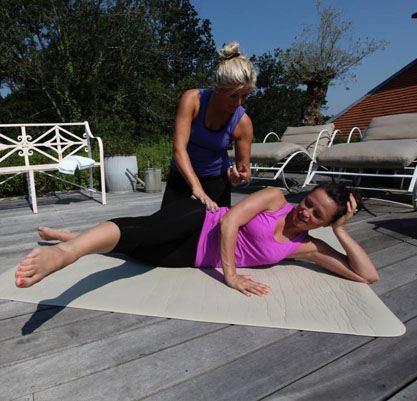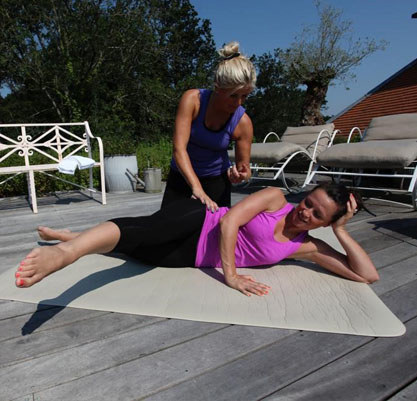 However, kids squabbling, dogs barking, the doorbell ringing are all things that you can remove from your mind when you attend your gym and you can, for one hour at least be all about you. Exercising online from your kitchen does offer the temptation of "just checking" your phone/emails or quickly looking at someone's school work which can be a distraction whereas when you are in the studio or gym, you are far less likely to be distracted from your workout and time just for you. 
Nothing can replace the peace and tranquillity that arriving at Lime Wood provides. After 10 years of teaching there, I never fail to enjoy driving up to the hotel and admiring the grounds as I arrive. The scents of the many herbs on the rooftop and the sounds of nature from our classes under the tree by the lake are a joy and the new hideout studio is as close to that as is possible with acres of views.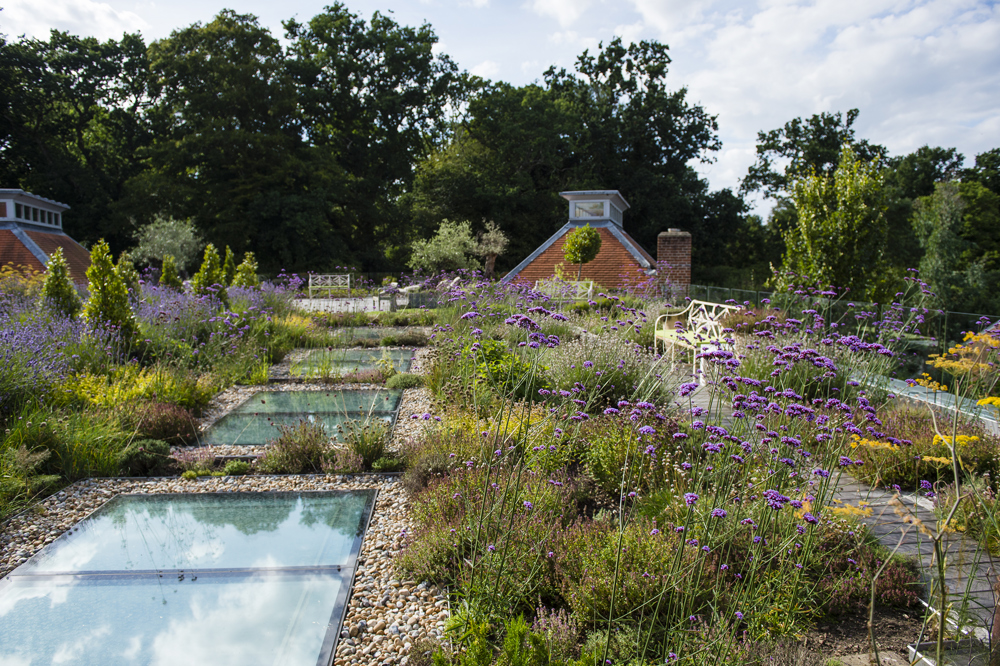 I very much enjoy seeing people face to face and being hands-on with regards to correction and adaptation. There is no way that through a screen I can see you in the same way. For me, it is a case of digging deep with my teaching skills and using a variety of ways to keep instruction as clear and complete as possible.
I think that moving forwards there is room for "blended" classes where we provide both live and online. Lots of us have become really comfortable with the ease of online and will keep that up and for my members, having recorded classes "on-demand" allows practice to suit any schedule but likewise, there are plenty who cannot wait to be back in a face to face class where you can exchange a bit of banter and chat and enjoy real company.  What is important for us teachers is to recognise where the need is and grow our skills to meet it! I look forward to the Herb House opening up soon and seeing so many of my lovely clients as well as enjoying the tranquillity of Lime Wood and Herb House.
More about Juliet
I have been a fitness professional for nearly 20 years, having started out as a Personal Trainer.  In 2007 I decided to focus entirely on and specialise in Pilates and have studied extensively since then, adding many more qualifications along the way, qualifying in Level 3, Level 4, Reformer, Cadillac, Pre and Post Natal, Pilates and neurological disorders, Exercise and the menopause and Barre. I have run several retreats both abroad and, in the UK, and have also worked as Fitness Manager for the Juicy Retreats in Turkey and Portugal. Having taken the necessary teaching and assessor exams, I started working as a Teacher Trainer and Examiner in 2018 delivering the Level 3 Pilates course nationwide and now run my own workshops and webinars for fellow teachers in my industry. I wrote class content that is used nationally for the "This Girl Can" project and last year wrote and delivered presentations to Future Fit Ltd on taking your business online which has been added as a training module. I currently teach my own members online as well as running bespoke online classes for corporate companies that have employees working at home. I am committed to my own ongoing learning and attend conventions, workshops and courses every year.