What You Can Expect Visiting Herb House...
Best practice & measures in response to Coronavirus
The Herb House is now open!
Raw & Cured and Curated by Lime Wood are open to all. A reduced treatment menu is also available to book, but with no access to the facilities.
The Herb House Spa facilities are open for Hotel Guests and Herb House Spa Members only on a bookable basis so that we can manage the capacities in the spa and ensure that physical distancing is possible.
Our first priority is to keep everyone safe, that's you our guests, but also our team. We see this as a partnership of trust, so we ask that when you do come and see us to please play your part in keeping everyone safe. In return we will all be doing the same for you.
This is new territory for us too, we would ask you to be patient with the team, there is a chance some things might be a little less snappy than usual whilst we all get used to the new way of doing things!
We want to reassure you that we have put measures in place to keep you and our teams safe so that you can confidently enjoy a visit with us. 
We're following all government guidelines and working on best practice measures within the spa; all procedures and assessments will be constantly reviewed and updated where necessary in line with government guidelines.
We will be using LIME WOOD'S 6 safety steps in all areas of the operation at Herb House.
1. Carrying out Risk Assessments & Staff Training
2. Adhering to Government guidelines for physical distancing
3. Putting in place stringent hygiene measures, including the use of a sanitiser to fog public areas regularly.
4. Providing hand sanitiser for staff & guests at every possible opportunity
5. Minimising contact between staff & guests at every possible opportunity
6. 6. Guests required to wear face coverings/masks in public spaces from 8th August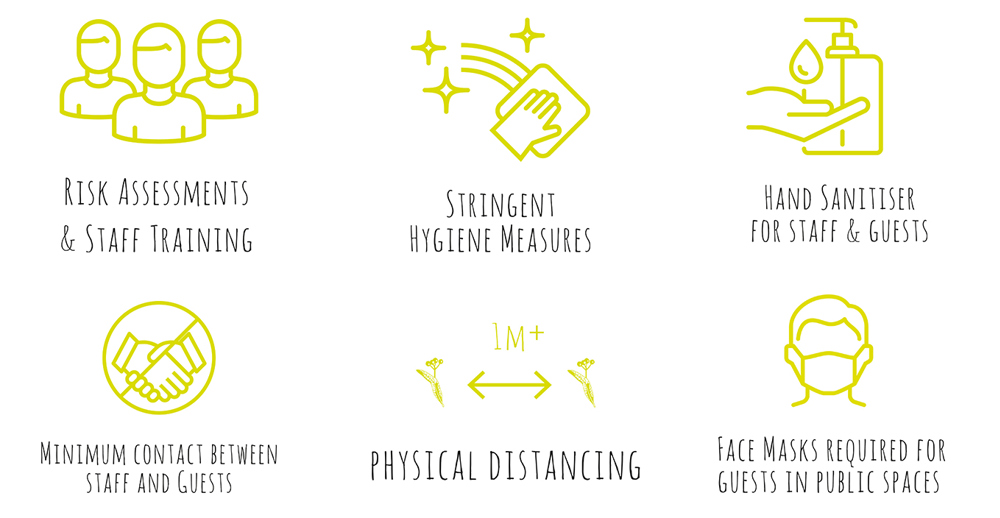 Face Coverings
From 8th August in England, you must wear a face covering by law in public areas of hotels. So as a guest we require you to wear a mask when walking around the hotel, except if you are seated waiting for or consuming food and drinks.
This also includes the Herb House Spa Reception and Curated by Lime Wood shop. As the facilities in the Herb House must be booked in advance and are managed by capacities, guests will not need to wear face coverings in these areas.
Please bring your own face covering with you for your arrival, but we will have some disposable masks available at reception if you forget. We will also be providing disposable masks for hotel guests in a Personal Safety Kit in your room on arrival.
The Government has specifically confirmed that face coverings are not required for staff in indoor settings where face coverings have to be worn by guests as employees will continue to follow all guidance based on our health and safety assessments and staff training. So, our team, with the exception of our Spa Therapists, will not be wearing masks or visors unless they have personally chosen to do so.
Full Government regulations on Face Coverings can be found here.
Raw & Cured
Open daily from 10am-6pm
We are serving our full menu with juices, coffees, teas or even a glass of wine to indulge in!
Pre-booking is advised but walk-ins are welcome. Please call the Herb House on 023 8028 6998 to book.  We will be taking personal details for test and trace purposes.
Curated by Lime Wood
Open daily from 10am-6pm
You can now stock up on all of your favourite body, bath and facial products from Bamford, Sarah Chapman and VOYA, as well as some new seasonal goodies.
Lap Pool & Outdoor Pool
There will be a dedicated advance booking system available to use the indoor lap pool, hydro pool and outdoor hot pool. Spaces will be limited and sessions can be booked 7 days in advance on a first-come first-served basis. We recommend you book in advance to avoid disappointment.
We will operate family-friendly swimming sessions Monday - Sunday from 8.15am -9.00am, 9.15am-10.00am, 5.15pm - 6.00pm, 6.15pm-7.00pm. There must be an over 18 attending in each swim group. To book a section for 4 guests you only need to book 1 place within the My Wellness app.
Outdoor pool sessions from 8.00am - 8.00pm with a maximum of 6 guests per session. Please note you must be over 18 to book.
Hydro pool sessions from 7.00am - 8.00pm with a maximum of 8 guests per session. Please note you must be over 18 to book.
Lap pool sessions from 7.15am - 8.00pm. These sessions will all be lane swimming with the exception of the family swim times.
Lane swimming - there will be a slow/medium lane booking option with a maximum of 3 guests per lane 
If you have any questions regarding anyone of the booking systems on My Wellness please email membership@herbhousespa.co.uk or call us on 02380 287 184 
Treatments
A reduced treatment menu is available subject to availability. You can view the treatment menu here. 
We will be taking temperature checks of the therapist and guest ahead of every treatment and all therapists will be wearing the appropriate PPE.
All tools and equipment will be sanitised after each client and all surfaces in the treatment rooms will be disinfected after each treatment has finished. Each therapist will have their own allocated treatment room which will be deep cleaned daily. 
Gym
There will be a dedicated advance booking system available to use the gym. Sessions will be available to book in one-hour max slots from 6.30am - 8.30pm with a maximum of 6 people in the gym.
Last gym session weekdays will be 7.30pm-8.30pm, and 6.30pm-7.30pm at the weekend.
All gym equipment will be disinfected regularly throughout the day.  However, we would ask that guests clean down their equipment before and after use with the provided cleaning equipment.
Guests will be contacted about booking a session in advance of their arrival. 
Classes
We will be running a full fitness timetable and classes will take place outside where possible, or in the studio – all bookable via the MyWellness App for members or Reservations/Herb House Reception for guests. 
Class sizes will be limited to 6 in the studio (indoor classes) and 12 outside (weather permitting), based on current Government guidelines.   In circumstances where the weather is permitting and the class allows, those attendees on the waiting list will be contacted the night before to increase the class numbers for all classes before midday the following day.  For afternoon classes we will contact you in the morning of the day of the class.
You can view our updated Fitness Timetable here.
Personal Training
Personal Training sessions will be bookable via our Reservations team – to be enjoyed in the gym or outside.
All personal training sessions bought prior to closure will be reactivated, please speak to your PT to organise this.
Hot Pool, Hydro Pool, Sauna & Steam Room & Mud House
In addition to the Hot Pool and Hydro Pool being open, we aim to open the Mud House, Steam Room and Sauna from 15th August to ensure everyone's safety in line with Government guidance. This will be managed by capacities, with up to 4 people in any of these areas at one time.
If you have any questions regarding anyone of the booking systems on My Wellness please email membership@herbhousespa.co.uk or call us on 02380 287 184
Changing Rooms
Our changing rooms will be open as usual but they will look slightly different than you are used to - you will be given a towel and robe on arrival at the spa, encouraged to physically distance and there will be no reading material available.
Residents will be encouraged to use their rooms facilities so the changing rooms will be available for members only.
We are here to help
If you have any other queries please get in touch with us by emailing reservations@herbhousespa.co.uk or calling 02380 287 184