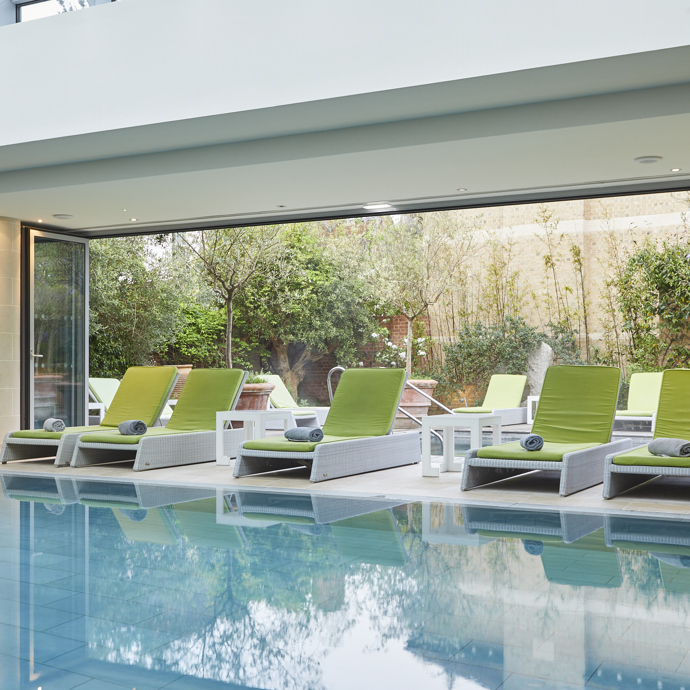 Full Works or All Access members are welcome to register any children under 18 years old in their household as Little Nippers, who will then be welcome to swim in the Lap Pool during set times only. This facility is also available to hotel residents with dependents during their stay.
Our standard Little Nipper sessions run as half-hour bookable slots at the following times:
Monday to Thursday mornings from 8.30am – 10.00am
Friday mornings from 8.30am -10.00am and afternoons from 4.00pm – 5.00pm
Saturday and Sunday mornings from 8.30am – 10.30am and afternoons from 4.00pm – 5.30pm
Please note, during some holidays, these session times may change.
All Little Nippers timings will be current on the MyWellness app and any changes announced in the Members' newsletter.
Pre-booking is required via the MyWellness app or via reservations@limewood.co.uk or 0238286998/9.
All members' children must be pre-registered in advance of using the facilities. On application, please complete an intake form with their details or email membership@herbhousespa.co.uk for more information.
The maximum family group size for a Little Nippers booking is limited to 4 people.
We require a minimum of one adult per group to remain in the Lap Pool area and supervise their Little Nippers at all times.
We would be grateful if members do not book back-to-back or multiple sessions in advance to enable other members to enjoy the facilities with their families. Please check with spa reception if there is additional availability on the day and we would be happy to assist.
Please register at spa reception on arrival for the swim session, where you will be checked in on the MyWellness app.
Little Nippers access is limited to the changing rooms and Lap Pool only and it is the guardian's responsibility to supervise their Little Nippers at all times in these areas.
Other spa facilities, such as the Indoor Hydro Pool, Outdoor Hot Pool, Sauna and Steam Room are for over 18 years old.
Children are allowed in Raw & Cured at any time during opening hours when accompanied by their parent/guardian.
Please note The Herb House does not provide lifeguard facilities at the Lap Pool.  However, we do have first aid assistance, should an emergency arise.
The Herb House will provide a selection of noodles to use in the Lap Pool.
Please do not bring additional toys into the Lap Pool other than armbands and toddler floating aids.
Please ensure your Little Nippers do not run, jump and dive in the Lap Pool and there is no horseplay or excessive splashing.
Please be aware of other guests using the spa wet areas.
Once out of the pool, please ensure your children dry off thoroughly to avoid slipping.
Under 3 years olds must wear special Neoprene nappies in addition to their swimming nappies when swimming in the Lap Pool to avoid leakage and the closure of the Lap Pool. These are available to purchase at spa reception.
Save as set out in our liability clause in our Terms and Conditions, The Herb House accepts no liability for your Little Nippers during their time in the spa.
Members' dependents over 18 and living at home are eligible for our Adult Dependents' Membership until they turn 26. Please ask the membership team for more information.
It may be necessary for the Lap Pool to be closed at certain times with no notice. The Herb House management will endeavour to provide prior notice of these closures but are not obliged to do so.
We reserve the right to amend this policy at any time and to ask anyone that does not respect this to vacate the spa.
If you have any further questions, please contact membership@herbhousespa.co.uk.