EAT: Busy Day Smoothie - Amelia Freer
This is Amelia's go-to smoothie for days she knows she is going to be busy, but still wants something nourishing! 
Breakfast smoothies can be a very quick and easy way to support nutrition. I put all the ingredients into my blender jug the night before and leave it in the fridge ready to whizz together in the morning. That way, I know I've nourished myself with at least one portion of vegetables, some fresh fruit and protein, without thinking too hard about it. 
Busy Day Smoothie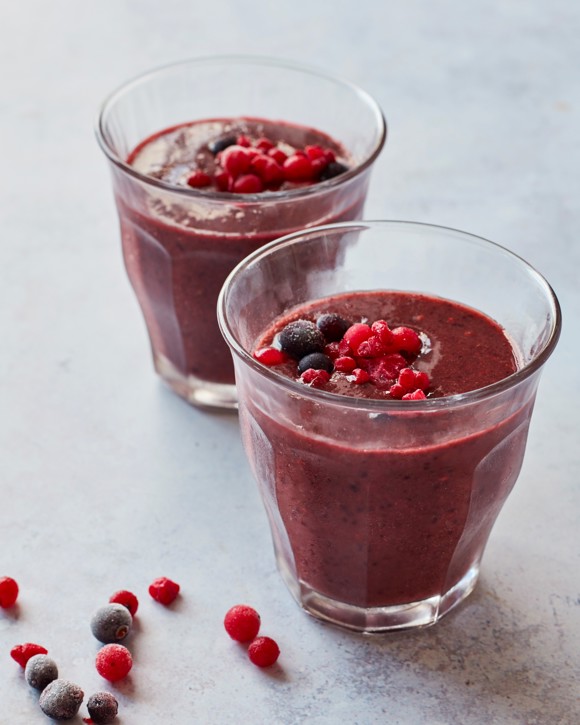 This is my go-to smoothie for days I know I'm going to be busy, but still want something nourishing. It uses ingredients I tend to have in the house, although it's a very forgiving recipe, so do feel free to use whatever you have available. You could switch the almonds for cashews, or hulled hemp seeds, for example, or change around the fruit according to your preferences. Spinach, especially if you use baby leaf, provides a handy portion of greens, but is so mild in flavour you really don't notice it.
NB. If you only need one portion, I would suggest halving the quantities. It tends to change colour if stored for too long, which can make it a little less appetising.
What you need...
Serves 2
160g frozen mixed berries
1 banana
60g almonds (soaked overnight) or 2 tbsp almond (or any nut butter)
2 handfuls spinach (fresh or frozen)
185ml coconut water or milk of your choice
1 tsp honey or maple syrup (optional)
What you do...
Blend everything together in a high powered blender and serve immediately.
Enjoy! 
Amelia x
For more recipes and nutritional advice from Amelia why not pick up one of her books. Find out more here 
Looking after yourself has never been easier or more straightforward than with Amelia's latest book Simply Good For You - over a hundred delicious, quick and non-nonsense recipes that are as healthy as they are tasty.