EAT: One Pot Veggie Pasta - Amelia Freer
A comforting lemony spaghetti dish that is perfect for spring! 
This one pot, lemony spaghetti is a lovely nod to warmer days ahead, while still offering comfort as we wait. It is, of course, incredibly simple to make and the washing up is a dream! Everyday cooking, perfect for busy days.
I tend to use a mixture of different pasta types, especially when cooking for my daughter. If you're OK with gluten, then whole-wheat or spelt pasta is a good choice. If you're gluten free, look for buckwheat, brown rice, pea or red lentil pasta. Cooking times vary, so follow the instructions on the packets.  
Amelia x
One Pot Veggie Pasta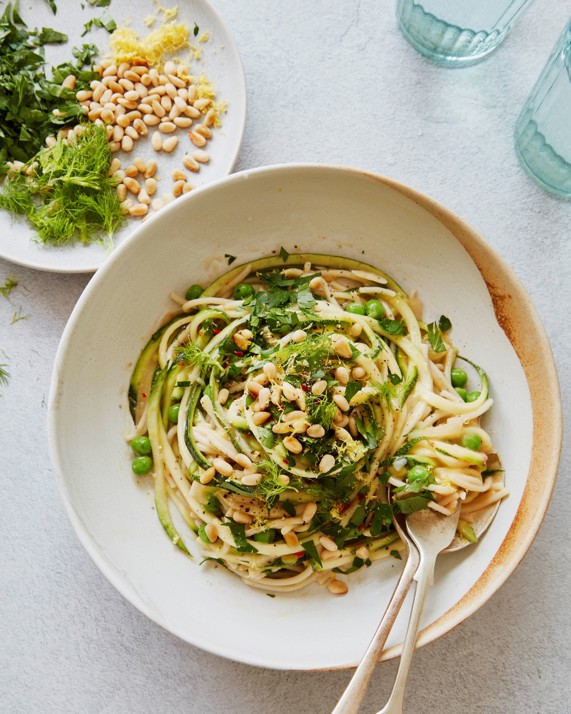 VEGAN, GLUTEN-FREE, DAIRY-FREE
Serves 4
What do I need...
170g spaghetti of choice (I use brown rice spaghetti but wholewheat or lentil are other good options)
zest and juice of 1 lemon
1 shallot, finely sliced
2 cloves garlic, finely sliced
1/2 tsp chilli flakes
1 fennel bulb, thinly sliced – save the fronds for garnish
2 tbsp olive oil
1 ltr water
170g courgetti, approx 1 medium courgette
150g frozen peas
To serve
1 tbsp fresh parsley, finely chopped
fennel fronds
chilli flakes
zest of 1/2 lemon
pine nuts
What do I do...
Put the spaghetti, lemon zest and juice, shallot, garlic, chilli flakes, fennel and olive oil into a large saucepan and pour over the water.
Bring to the boil over a high heat then turn the heat down a little. Let it bubble away, stirring frequently with tongs, until the pasta is cooked to al dente and the water has nearly evaporated, this will take around 10 minutes.
Turn the heat down to low and add the courgetti and peas. Use your tongs to mix everything together for a couple of minutes until the peas are cooked and the courgetti has warmed through.
Season to taste then serve topped with a scattering of parsley, fennel fronds, chilli flakes, lemon zest and pine nuts.
For more recipes and nutritional advice from Amelia why not pick up one of her books. Find out more here.
Looking after yourself has never been easier or more straightforward than with Amelia's latest book Simply Good For You - over a hundred delicious, quick and non-nonsense recipes that are as healthy as they are tasty.