EAT: Summer Aperitifs
It would only be right to start any alfresco feast with Italy's favourite aperitif, the Aperol Spritz, a light and sparkling long drink that goes hand in hand with sunshine dining or a refreshing white peach Bellini with Prosecco and white peach purée! 
Aperol Spritz 
Aperol Spritz is the perfect drink to start an evening; it's light, refreshing and bittersweet taste has been starting conversations since 1919. Aperol's original recipe has remain unchanged since 1919: it is an infusion of herbs, citrus fruits and roots, creating a perfectly balanced product with a low alcohol percentage (11% ABV).
It is a simple serve that can be enjoyed on its own, or complemented with small plates such as our Pizzettas, moreish Arancini or Smoked Cod's Roe.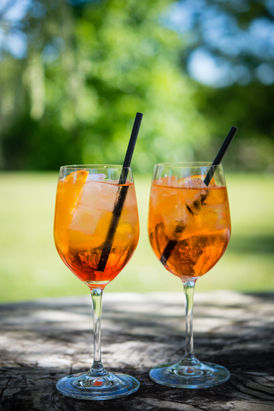 What you need...
A bottle of chilled Prosecco
A bottle of Aperol
Soda, served from a chilled bottle or syphon
Large wine glasses
Plenty of ice cubes
Slices of orange
What you do...
Fill a large wine glass with ice. Add Prosecco followed by Aperol in equal parts
Then add a dash of soda water and stir and garnish with an orange slice.
PEACH BELLINI 
A delicious combo of sparkling wine and white peach purée, Bellini is the quintessential drink of Venice. Originally conceived as a summer drink, it's now often served all year round. Being so simple, its success relies on the quality of its ingredients: peaches and wine. 
What you need...
3 White Peaches, ripe, peeled and quartered
Sugar Syrup, as needed
400ml of Prosecco, dry, chilled
What you do...
Pass the peach slices through a food mill to obtain a smooth purée. Alternatively, blitz the pulp in a food processor and strain through a fine mesh sieve.
Sweeten the purée with simple syrup to taste (the exact amount will depend on your liking and the sweetness of the fruits). Refrigerate until very cold, for about 2 hours. Set four Champagne glasses in the fridge to chill. 
When ready, divide the peach purée between the chilled glasses, top with Prosecco and stir gently until combined. Serve right away