The Lowdown with...Angela Hartnett
Introducing our new Lowdown series where we ask our go-gurus and friends what they're up to at home… First up...our very own Head Chef, Angela Hartnett! 
Introducing our new The Lowdown with... series where we ask our go-to gurus and friends what they're up to at home…and first up is Angela Hartnett. 
As a chef, Angela needs barely any introduction. She is the protégée of Gordon Ramsay and a Michelin-rated chef in her own right, known for her informal but delicious Italian style cooking. Having worked at Zafferano, L'Oranger and the Connaught with Gordon, Hartnett Holder & Co at Lime Wood is one of Angela's ventures outside of the capital, where she already holds to her name Italian restaurant Murano in Mayfair as well as the Café Murano group. Angela has more recently turned her hand to Cucina Angelina, the restaurant at our sister hotel in the Alps, Portetta.
Hartnett Holder & Co, our relaxed Italian restaurant brings together in-house chef Luke Holder and trailblazing Angela!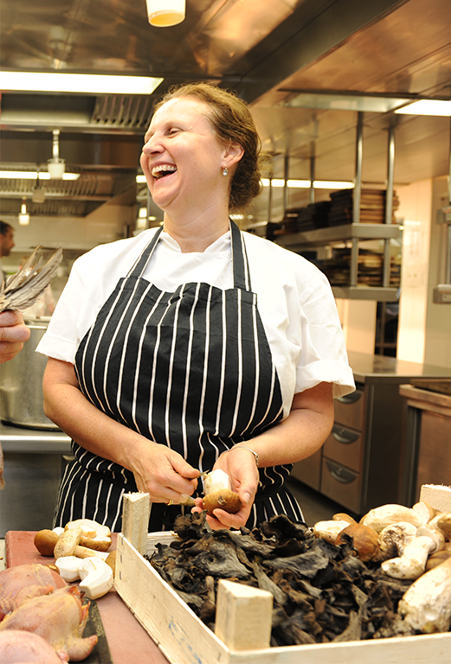 What are you cooking at home?
Neil and I are taking it in turns to cook and using up things we have in the freezer. I made Pizza last week but mainly veg dishes. Whatever is easier!
What are you listening to?
The Fix on Radio 4 and for some great music, LBC. They play some of my favourites like The House Martins and ABBA so I've been dancing to that.
What are you reading?
Ian Rankin. I have read all of his novels but it's very relaxing to go back and reread the Rebus Books again.
Drink of choice?
Far too much wine
Where will your first travel destination be?
I'm not thinking that far ahead to be honest but will probably be to see family in Italy or to the Isle of Skye in Scotland. It's amazing what so little travel is doing for the environment which we should all consider this once lockdown is over
What will be the first restaurant you go to?
Wow that's a question! I think Brawn and St John Bread & Wine to name two but all my locals!
What are you watching?
Replays of the The West Wing
Current beauty regime?
None. Hair going grey by the minute
Your lowdown outfit?
Even worse, shorts, t-shirt and flip flops
Any tips on making lockdown easier?
Talk to each other, be kind and perhaps write to each other. Do something you have promised yourself you would do. I am trying to sort out the clutter my house and feel like I have achieved something which is important.
Love Angela x