At Lime Wood and Herb House we are doing what we can to reduce the amount of plastic and packaging we use, so you will no longer find single-use plastic bottles around the place!
We are working with our water partner Belu on a new initiative to provide our hotel and spa guests with filtered water. Belu are an award-winning ethical business and social enterprise offering great tasting British natural mineral water and quality filtration systems. Belu's business is driven by environment and social impact. They minimise their environmental impact by using recycled materials, not exporting water and are 100% carbon neutral. They are also very proud to be the exclusive bottled water partner of WaterAid, giving 100% of their profits to end water poverty.
Since introducing filtration into Herb House Spa, 106,000 bottles have been saved a year.
We know how important water is, so to make sure our guests keep hydrated, we recommend bringing along your own water bottle, or you can purchase one of our reusable BELU water bottles from Reception for £5. We also have biodegradable options if you'd prefer to do that bit extra!
You will find water filters around the Herb House Spa in the changing rooms, gym, studio, by the lap pool and Raw & Cured. Food and drink takeaway packaging throughout the hotel and spa is all now made from either recycled materials or is fully biodegradable.The green straws that are available in Raw & Cured are fully biodegradable. Belu water will still be available to buy in glass bottles to drink in the hotel and Raw & Cured, but no glass will be allowed into any of the spa areas.
What has the new initiative achieved?
Based on our current stock of reusable water bottles, we have reduced the number of plastic bottles by a potential 106,680
As a result of installing Belu filtration systems and purchasing Belu Refillable bottles in Herb House Spa, so far we'll help to transform 2,110 lives with clean water in poor countries worldwide through Belu's partnership with WaterAid
The mission continues!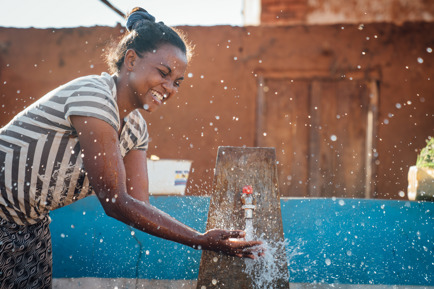 Image credit: WaterAid / Sam James