12 Nourishing convenience foods with Amelia Freer
We've all been there; you've had a long busy day and you can't muster the energy to cook an entire meal from scratch. Sometimes it's nice to be able to whip up something quick and easy and know that it is still nutritious. Our nutritional therapist Amelia Freer has shared her top 12 nourishing convenience foods to always have in the cupboard for those days when you fancy a quick easy and healthy meal. 
While I am an enthusiastic advocate of simple, home-cooked meals, there are certainly times when turning to healthy convenience foods is a real blessing. Having a few of these ready-prepared ingredients or meals stashed away can make all the difference to eating well on those busiest of days.
For years, I worked with clients who were incredibly busy so they really couldn't shop and cook for themselves – there simply weren't enough hours in the day. So, we would work out together what they could buy near their home or office that would still be nutritionally complete (and of course, tasty). It usually does work out a bit more expensive, but if time is your main priority, then don't feel guilty about leaning on a few short cuts (if you are able).
Here are just a few of my personal favourites to give you an idea. Most big supermarkets or local health food shops will stock a range of similar products so see what's available where you normally shop.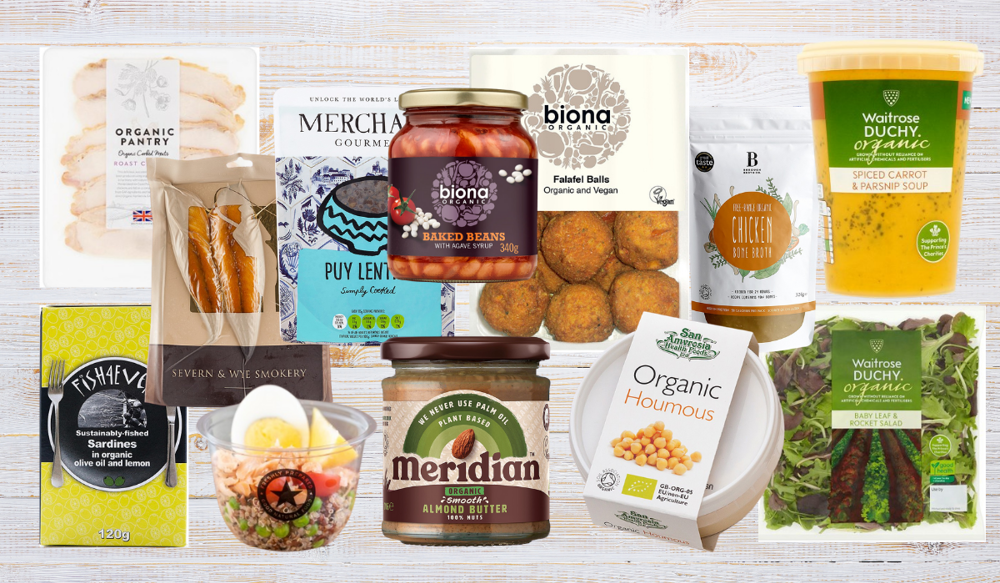 Ready cooked lentil pouches
I am rarely without a good few packets of these in my cupboards, especially cooked Puy lentils. As a source of protein that goes well with so many other dishes and flavours, cooked lentils are a really handy ingredient to add to cooked vegetables, salad leaves, make a quick vegetarian bolognaise or to boost a smaller portion of leftovers. I also use them to make a simple vegetarian pate and add them to mince dishes to stretch the meat out further or pulse them into quick lentil burgers.
Hummus
If I have time, I like to make my own hummus, mostly because a tin of chickpeas makes a really good amount, and we get through so much at home! However, buying ready-made hummus is definitely a time and washing up saver and it can still be a nutritious item to buy. I tend to opt for organic ones and once finished, I give the containers a really good wash, then re-use them to freeze portions of my own hummus when I make a bigger batch.
Vegetable soups
Although it's pretty simple to make soup, it does require you to have the ingredients to hand and a little bit of time and energy to make it. Thankfully, there are some delicious vegetable soups available to buy ready-made that tend to offer an economic ready meal that is packed with nutrition. Just add a source of extra protein (such as some seeds, crumbled feta, torn cooked chicken, roasted chickpeas etc.) and you've got a balanced meal ready in minutes. I keep the containers for these too and re-use them multiple times to freeze foods when batch cooking. 
Good chicken stock
Making your own chicken stock is a really good way of eking out every last morsel of nutrition from a chicken or leftover vegetable peelings. But it does require a long-time cooking and inevitable washing up. So, buying a packet of ready-made chicken stock (or simply a good organic stock cube or bouillon powder) certainly makes many dishes quicker and easier, lending a depth of flavour that is hard to beat.
Cooked chicken
Roasting a chicken is not a particularly labour intensive process, but it does require time (usually one and a half hours at least), which is often hard to find at the end of a long day. So, picking up a ready-cooked chicken on the way home is a really good little trick. Add a big handful of washed salad leaves, chopped tomatoes and diced avocado and you've got supper on the table in just a couple of minutes. P.s. it's a GREAT picnic dish too. Just remember to pack napkins.
Protein pots
In lots of lunch places and convenience stores, you can now find 'protein pots' to buy. They might contain beans, nuts, boiled eggs, chicken or prawns, often in tasty little combinations, and offer a great nutritional boost to otherwise relatively low-protein lunches. They are also a great snack option if you're out-and-about and feeling hungry.
Washed salads and prepared vegetables
Healthy cooking is so much about vegetable prep. I reckon it takes about 80% of the prep time required to make nutritious meals. So one of the best ways to speed things up is to buy vegetables ready-prepared. It is definitely more expensive to do this, but it undoubtedly saves time. Don't forget to look in the freezer section too. There are often many more veggie choices than just peas available ready-to-cook from frozen. I'll add a cube or two of frozen spinach to most stews and curries to add in extra greens and often add frozen baby broad beans to dishes for a protein boost.
Smoked mackerel
My fridge is rarely without a packet of smoked mackerel. It's such a convenient ingredient and a source of protein and healthy omega-3 fatty acids to add to quick salads for lunch or supper. I often whizz it up into a speedy mackerel pate and dollop it onto toast or lettuce cups.
Tinned sardines
Nutritional guidelines recommend that we aim to have one portion of oily fish per week. Tinned sardines are a very economical and easy way to achieve that target and are a great source of omega-3 fatty acids. You can now buy boneless sardines although the edible bones of these little fish do provide a good source of calcium (which is helpful if you don't consume dairy products, for example).
Nut butters
I always have at least one or two jars of nut butters on the go at any one time. A tablespoon dolloped onto porridge, swiped over toast, blended in a smoothie or spooned into some yoghurt can nutritionally elevate a meal in seconds, offering some important healthy fats, a little protein and a variety of vitamins and minerals. I look out for unsweetened, unsalted nut butters that don't have any added palm oil.
Ready-made falafels
SO handy when you're in a hurry and want a filling meal that doesn't require much mess or preparation. Willow loves falafels and these ready-made ones are always a winner. They also make a really simple appetiser, with a quick tahini dressing for dipping.
Organic baked beans
Who doesn't love beans on toast? It might just be one of the most comforting dishes I know. These organic ones from Biona come in a recyclable glass jar and are utterly delicious.
For more health and nutrition tips and recipes visit Amelia's website here.