Amelia Freer's Buckwheat Breakfast Pancakes
Try making Amelia's delicious and healthy pancakes...
Who doesn't love pancakes? It's the ultimate breakfast treat and keeps you going all morning. Pancakes don't have to be unhealthy; our good friend and our go-to guru Nutritional Therapist Amelia Freer shares her Buckwheat breakfast pancake recipe with us. They are easy to make at home and you can swap in fruits that are seasonal or fruits you would prefer!
Buckwheat contains both fibre and protein and is naturally gluten-free. You don't have to use buckwheat for these pancakes and can substitute for regular flour if you don't need to avoid gluten.
'I love stewed blackberries in autumn, but these pancakes work well with savoury toppings too, like an avocado salsa salad or beetroot hummus and vegetables.'
What you'll need:
Gluten-Free and Dairy Free
Makes 18-20
250g buckwheat flour
1 tbsp gluten-free baking powder
400ml nut milk
1 egg
2 punnets of blackberries
2 tsp honey
Butter or coconut oil for frying
Coconut yoghurt (or of choice) for topping – optional
What to do:
In a bowl, whisk the buckwheat flour and baking powder together to combine then add the milk and egg whisking to a smooth paste. Leave to stand and thicken while you make the compote. 
In a small pan, cook the berries on a low heat for 8-10 minutes, stirring occasionally. 
Heat a heavy non-stick frying pan to medium-hot, add a little coconut oil. 
Using a serving spoon, dollop the pancake mix and spread out to make roughly 10cm pancakes. Cook in batches for 3-4 minutes until bubbles begin to appear over the surface then flip and cook for another minute or two. Keep warm until you have cooked them all then serve 4 or 5 stacked and topped with blackberries and a dollop of coconut yoghurt.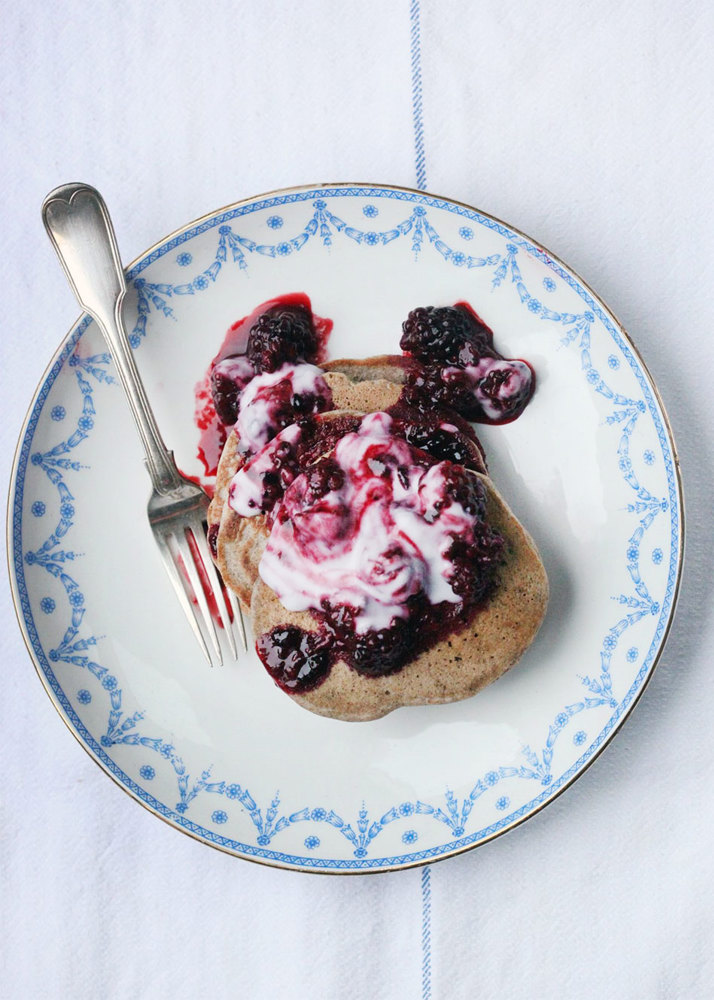 For more Amelia recipes visit her website here.