Amelia Freer's Slow Roasted Chicken with Garlic, Orange and Cyder Vinegar – the ultimate dinner!
What could be more comforting than a slow-roasted chicken? Try making the recipe here...
What could be more comforting than a slow-roasted chicken? Coming in from a chilly walk to the promise of a hearty meal that nourishes the body and soul. A vinegar marinade might sound odd but once Amelia had given it a try, she found out how well it works. Why not try it for yourself and taste the difference?
TIP: Amelia serves this with mixed steamed greens, crispy potatoes and the shallots and peppers with a little mustard and lots of the pan juices, which make their own easy gravy during cooking
What you'll need:
Serves 4
1 whole large chicken, approx 1.7kg (ideally free-range/organic), all packaging removed
8 echalion shallots, peeled and cut in half
1 large red, orange & yellow pepper, seeds removed and each cut into 6
3 whole bulbs of garlic, cut through the middle
1 small bunch of fresh herbs such as thyme, rosemary and tarragon (alternatively use 1 tbsp dried mixed herbs)
1 orange, cut into 6 wedges
100ml Aspall Organic Cyder Vinegar
100ml chicken stock
2 tbsp honey
2 tbsp olive oil
salt & pepper
What to do:
Preheat the oven to 140°C.
Lay the shallots & peppers in a deep baking tray, add the herbs and then put the chicken on top.
Nestle the garlic bulb halves and orange wedges next to the chicken.
Next, mix together Aspall Cyder Vinegar, chicken stock, honey and a good grind of pepper and a generous pinch of salt in a small bowl, then pour over the chicken. Drizzle the olive oil over the chicken skin and season with more salt and pepper.
Cook for 2 – 2.5 hours until the chicken is cooked through and the juices run clear with no hint of pink. Once cooked, cover the tray with foil and leave to rest for 15 minutes before serving.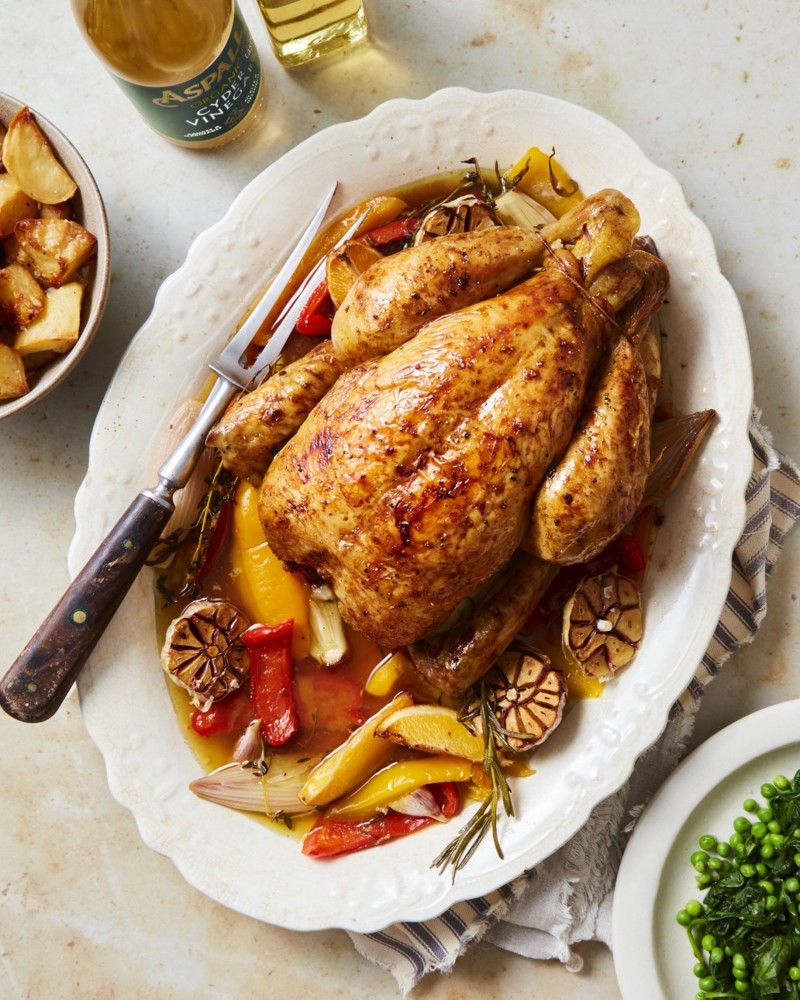 For more of Amelia's delicious recipes click here.