EAT: Cherry Tomato Sauce with Mozzarella & Basil
A true classic of Italian cooking, this is super quick and easy tomato pasta sauce from the HH&Co kitchen! 
Pasta is the ultimate comfort food and contrary to popular belief does not need to be stodgy and heavy, it can be incredibly fresh and light and the ultimate 'fast food' purely because it can be on the table in a matter of minutes. 
We make all of our own pasta at Hartnett Holder & Co - why not give this a go yourself with our Perfect Pasta Dough. 
Once you have your basic pasta...and even if you are using shop bought pasta, a sauce made with fresh seasonal and locally grown ingredients can take it to new heights. 
A true classic of Italian cooking and super quick and easy. This is a truly delicious tomato pasta sauce made with fresh tomatoes that is perfect on a warm summer's evening, perhaps having polished off an Aperol Spritz aperitif and with a delicious glass of red waiting for you...!
Cherry Tomato Pasta Sauce with Mozzarella & Basil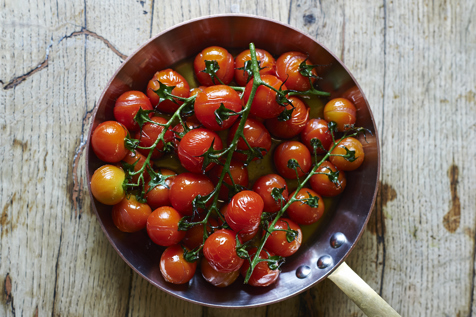 What You Need…
250g Cherry Tomatoes
2 Cloves of Garlic (optional)
2 tbsp.Olive Oil
2 Balls of Mozzarella
8-10 Fresh Basil Leaves
Salt & Pepper (to taste)
What You Do…
Slice the cherry tomatoes in half.
Place the olive oil into a sauce pan.
Peel the garlic and chop as finely as you can. Then, put in the pan with the olive oil.
Turn on the heat and wait until the garlic begins to sizzle, add a pinch of salt.
Turn the heat down to low and add the cherry tomatoes.
Continue to cook until the tomatoes begin to break down and give out their juice.
The tomato juice should begin to thicken as they cook.
Put your pasta on to cook.
Just before the pasta is cooked, tear in the mozzarella to the cherry tomatoes and stir through the sauce to begin melting.
Drain the pasta and stir through the sauce to coat the pasta.
Serve in bowls and tear the basil leaves over the top. Serve straight away!