EAT: HH&Co's Alfresco Salads
BBQ and alfresco dining season is here! Try two of Angela and Luke's seasonal salads at home. 
Angela's Tomato Salad 
Tomato Salad. A hot topic here at Lime Wood. Everyone seems to have a recipe they think is better than each other's! What tomatoes are best? Lemon juice or vinegar? Seeds in or out? Herbs or no herbs?? Skin on or off?

The key is to do this recipe when the tomatoes are in season, and to serve everything at room temperature, with nice, ripe tomatoes and good vinegar.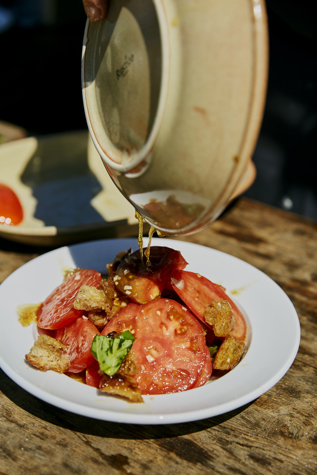 What You Need…
Serves 6
4 large Beef Tomatoes (or 6 Plum Tomatoes and a punnet of Cherry Tomatoes)
a good slosh of Extra Virgin Olive Oil
a small slosh of Sherry Vinegar
2 Garlic Cloves, finely grated
a few Basil leaves,torn
6 preserved Anchovy Fillets (optional)
a scattering of toasted Bread Croutons
Salt
What You Do…
If you're using big beef tomatoes, slice them; if using smaller tomatoes, just halve them.
First, season the tomatoes with the salt – this brings out their flavour – and pour over a little virgin olive oil and sherry vinegar. Then add the magic ingredient: the grated garlic.
Leave them to marinate for 10 minutes. Add the basil leaves, anchovies and croutons, toss together and serve at room temperature (remember, you should never put tomatoes in the refrigerator).
Shaved Fennel & Preserved Lemon Salad 
A HH&CO favourite. Crunchy and refreshing with a warming citrus character from the preserved lemon. This salad is simply not the same if you use lemon juice to flavour. It becomes overpowering and acidic. Great with fish, chicken and spicy meat dishes. This dish serves 10 so is great for get togethers or just halve the quantities for a smaller portion. 
What You Need…
Serves 10
4 bulbs of Fennel
10 Preserved Lemons
1 bunch of Dill (chopped)
Iced Water
Salt (to taste)
Pepper (to taste)
Lemon Oil (to taste)
Agri-Dulce Vinegar (to taste)
Sugar (to taste)
What You Do…
Trim the fennel bulb of any herb and set aside, then slice off any stalks. Cut the bulbs in half then horizontally through the root. 
Using a mandolin, slice the fennel as thinly as possible. 
Plunge the sliced fennel into heavily iced water for 20-30 minutes. This will refresh the fennel, rendering it super crisp.  Meanwhile, quarter the preserved lemons and remove the flesh with a knife. Discard the flesh, leaving just the skin. Slice the skin long ways into strips, then slice the other way so that you end up with a fine dice of lemon skin. Set aside. 
Drain the fennel thoroughly, patting dry with a tea towel and transferring to a large mixing bowl. Season the fennel with salt and pepper and coat generously with lemon oil then add the diced lemon skin and dill and mix through thoroughly. 
Finely chop the fennel herb (if you had any) and add to the mixture. Season to taste with the vinegar, sugar and more salt if necessary. 
Refrigerate until ready to serve. 
Buon Appetito
Angela and Luke x