EAT: Iain's Gypsy Eggs for Brunch
Ease into the weekend with this classic Brunch dish from HH&Co Backstage, the Cookery School. 
At our Cookery School, HH&Co Backstage, one of our most popular courses is Brunch. Gathering together late on a Saturday morning is the perfect way to ease into the weekend! Whether you have had a late night the night before, or have been up with the lark already, the perfect combo of breakfast and lunch is a lovely indulgent way to spend a few hours...preferably with a glass of something in hand. 
Iain, our Cookery School Chef's favourite dish is Gypsy Eggs. Fantastic for sharing, this brunch banger is great for setting in the middle of the table and letting everyone tuck in. It is best scooped up with hunks of crusty bread - table manners not needed!! For a veggie alternative, use roasted red peppers instead of the chorizo.
Gypsy Eggs (serves 4-6)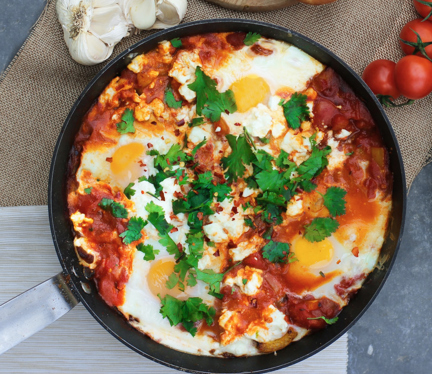 What You Need…
4-6 Free Range Eggs (large)
150g Raw Chorizo or equivalent spicy sausage – roughly chopped
1 Small Onion – thinly sliced
2 Fat Cloves of Garlic – minced
1 Pinch Dried Chilli Flakes
½ tsp Smoked Paprika
2 Cans Italian Chopped Tomatoes
2tbsp Olive Oil
2tbsp Coriander - chopped
Salt & Pepper
What You Do…
Preheat your oven to 200°c.
Heat the olive oil in a large shallow pan. You must use a pan that can be transferred to the oven. Gently fry the chorizo on a medium-high heat until it releases its oil and begins to brown.
Turn down the heat and add the sliced onions and cook gently until soft.
Add the paprika, chilli flakes and garlic and cook for a few seconds until the garlic is fragrant then add the tomatoes and combine.
Simmer the mixture until it is rich and thickened enough for you to make 'holes' in the sauce with a spoon.
When ready, remove from the heat. Make 4-6 holes in the thickened sauce and carefully crack the eggs into the holes.
Season the eggs with salt and pepper and then transfer the whole pan to your hot oven.
Bake for 6-8 minutes until the egg whites are cooked and the yolks just runny.
Remove from the oven and sprinkle with coriander. Serve immediately with hunks of good bread of slices of toast. Enjoy!!
We like to pair it with a glass of fizz or a mean Bloody Mary! 
Happy brunching! 
Love Iain