EAT: Luke's Bread Soup for VE Day
An Italian classic and a staple in Luke's Grandmother's kitchen during the war. 
With everyone baking like mad there is always the question of what to do with the left over bread!
In Italy a famous soup is Ribollita - a soup thickened with bread - it's a soup we love to cook at home and at HH&Co and is very much a part of the cultural identity of the Tuscan people in Italy - famous for their frugal approach to ingredients and making wonderful use of very little.

Here in the UK it's not recognised culturally but - my grandmother who is 91 this week! - used to say she and her mum would make bread soup for them during war. It's a great way of using up veg reaching the end of its life cycle and thickened with stale old bread - during these times none of us want waste and this soup is perfect for clearing down the veg store - just use what ever veg you have to hand! This recipe uses what I had in my fridge this week...

Enjoy! 
Luke Holder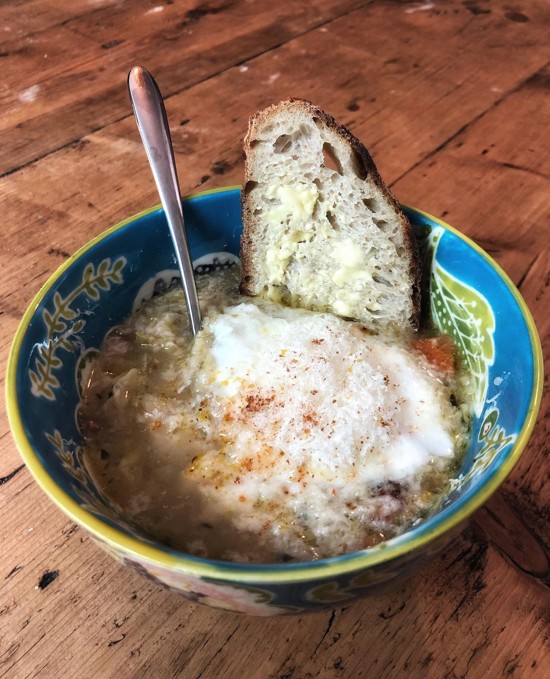 What do i need...
1 onion - sliced
2 gloves of garlic - sliced
2 carrots roughly sliced
1/2 a Savoy cabbage sliced
1/2 a large leek - sliced
100g of smoked streaky bacon sliced
2 potatoes - peeled and sliced
Thyme
Parmesan rinds - keep the end bits of Parmesan they add a great deal of depth when they are cooked in soups and stews!
50ml olive oil
2 cups of stale old sour dough or any old stale bread - roughly chopped
Greek Yoghurt
25g Parmesan
Touch of chilli powder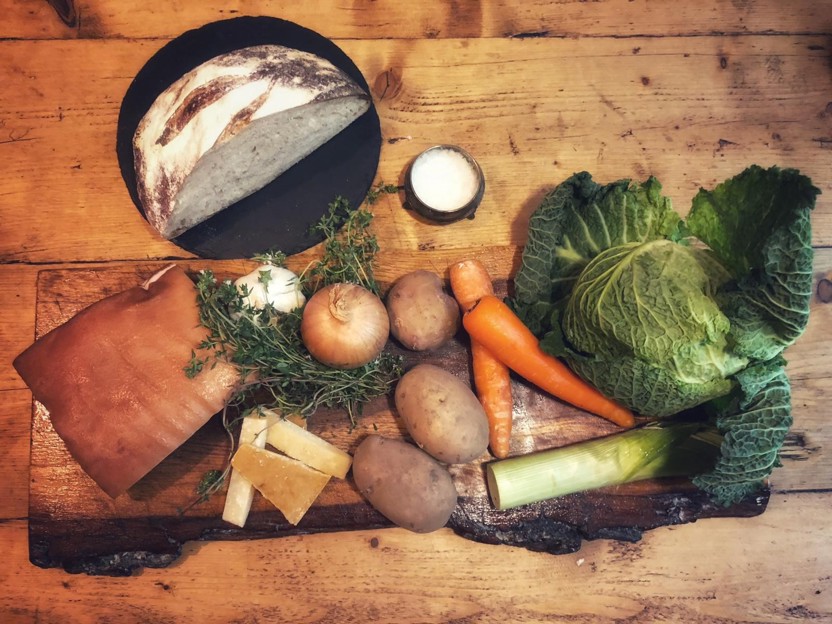 What do i do...
Warm the olive oil in a large pan and then add the smoked bacon and cook until golden.
Add the chopped onion, leeks, and garlic, season with salt and sweat in the bacon fat and olive oil for about 5 minutes until soft. 
Add the thyme, potato and Parmesan rinds. 
Cool for a further 5 minutes on a medium heat
Add the chopped cabbage and cook for a further 3 minutes, then cover with water and add the chopped sourdough. 
Simmer for 45 minutes until the bread has broken down completely
Serve with a big spoon of yoghurt and lashings of Parmesan and sprinkle of chilli flakes and a touch of zest of a lemon just bring this soup to life!