EAT: Make your own Gnocchi
A classic Italian dish that is super simple to make at home! Angela and Luke tell you how...
Like our home-made pasta, there is no real recipe for gnocchi. It's done by eye and by feel. The more you make it, the better you'll become at judging how the ingredients will come together so it's important you treat this recipe as a guide. Lightness of touch is also required with gnocchi, don't knead this as you would pasta or they will become gluey and tough!
Once you've made the dough, it is cooked in minutes. Homemade gnocchi is definitely worth the effort for an unbeatable silky texture.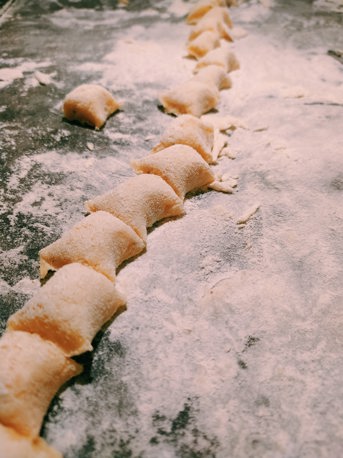 What You Need...
2-3 servings
2 large Potatoes (suitable for mashing i.e. Maris Piper or King Edward)
Pasta Flour
Grated Parmesan
1 Egg, beaten
Salt and Pepper
What You Do...
Place the potatoes (whole and unpeeled) into a pan of cold water and bring to a boil. Simmer the potatoes gently, checking regularly until they are thoroughly cooked. When ready, remove the potatoes from the pan and using a cloth to protect your hands, scrape the skins away from the flesh. 
Push the flesh through a potato ricer onto a flat tray, distribute the potato evenly over the tray and leave for 10 –15 minutes to allow to cool and steam dry.

When cooled, season the potatoes with salt and pepper. Sprinkle the potato evenly in a layer of pasta flour. You should still be able to make out the potato under the flour. The flour acts as a strengthening agent so you don't want it to become dominant. The potato is the star of the show here.

Repeat this process, only now with Parmesan. Drizzle the beaten egg over the layer of Parmesan.

Using a plastic dough scraper, begin to chop and fold the components together until it starts to come together into a loose dough.

Gently bring the dough together with your hands, being careful not to squeeze too hard. Cover with cling film and refrigerate for 20 minutes.

When the dough has relaxed, cut into 3 equal balls. Place one of the balls cut side down onto a lightly floured surface and begin to roll the dough gently into long cylinders – approximately to a five pence piece sized circumference.

Using your plastic dough scraper or a knife, cut the cylinders into pieces approximately a fingers width each.
Place on a clean tray, dusted with Polenta and refrigerate (uncovered) until ready to use. 
Now you have got the gnocchi dough sorted, why not try Angela and Luke's Gnocchi with Buratta and Tomato Sauce