EAT: Raw & Cured sweet treats
Try your hand at the delicious Orange and Blueberry Cheesecake and Rocky Road recipes from Raw & Cured at home…
Sweet Treats at home
Our sweet treats at Raw & Cured are super easy to make at home and are all free from gluten, dairy and refined sugar. The Orange and Blueberry Cheesecake makes the perfect pud and this Rocky Road is a huge hit in Raw & Cured and is loved by many. They are a healthy take on a tasty classic treat. 
Orange & Blueberry Cheesecake
What You'll Need…
For the crust:
2 cups raw pecans
1 cup dates or raisins
pinch of salt
For the orange cheesecake:
1 ½ cups cashews (soaked overnight)
1 cup fresh orange (which has been marinated in vanilla and maple syrup and then dehydrated for 1hr)
½ cup agave/maple syrup/raw honey
½ cup melted cocoa butter
juice of one lemon
zest of all the oranges you juiced
Blueberry layer:
2 cups organic blueberries (you can use frozen – defrost for 1hr)
¼  cup of the orange cheesecake mixture
What to do…
To make the crust: process the nuts and dates/raisins in your food processor until the nuts have become crumbs and the mixture sticks together when you press it. Press into the bottom of a springform pan and put in the fridge.
To make the orange cheesecake: blend all ingredients (except orange zest) in your high-speed blender until very smooth, then add in the orange zest with a spoon. Reserve 1/4 cup of this mixture for the blueberry topping – pour the rest onto your crust and put in the freezer.
To make the blueberry layer: blend the blueberries and the 1/4 cup of cheesecake mixture in your food processor or blender until creamy but still with small pieces of blueberry for texture. Spread this over your cheesecake and keep in the freezer or fridge overnight. if you can wait a day – this is best after 2 days (and not frozen, of course) enjoy with sliced oranges and blueberries.
Rocky Road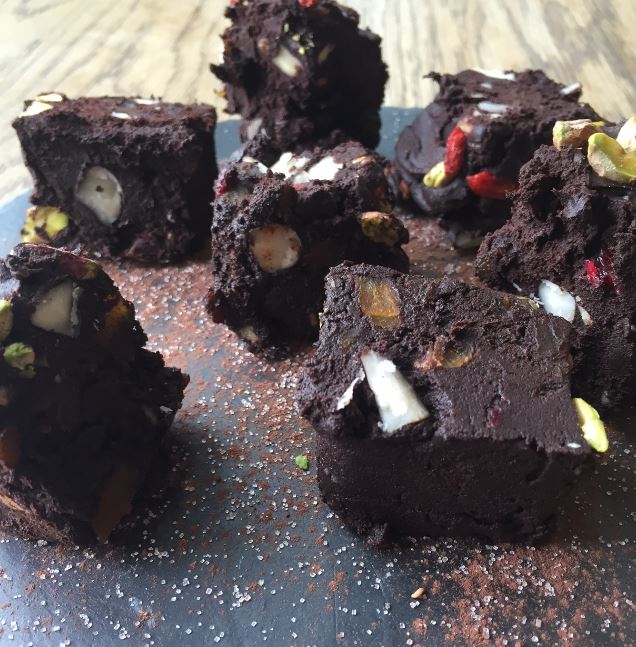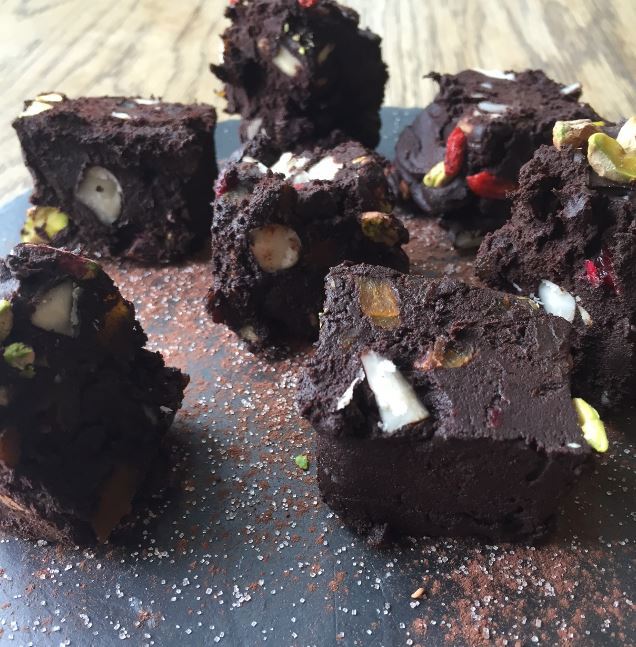 What you'll need…
1 ½ cups Cocoa Powder
1 cup Maple Syrup
1 cup Cocoa Butter
1/3 cup Coconut Oil
1 cup Mixed Nuts/Dried Fruits
What to do…
Melt the cocoa butter & oil in a bain marie or warming cupboard
Add maple syrup
Add 1 tablespoon at a time of cocoa powder & whisk together
Add mixed nuts/dried fruits
Turn out onto a tray lined with blank paper
Place in the fridge and cut to size once firm. Store in an airtight container for up to 2 weeks.
Enjoy your sweet treats!