EAT: Raw Salted Caramel Cheesecake
A Raw & Cured classic. This smooth and creamy cheesecake is packed full of goodness! 
Raw Salted Caramel Cheesecake
A Raw & Cured classic that is so tempting, it will be hard not to go back for seconds! This cheesecake is vegan and gluten-free.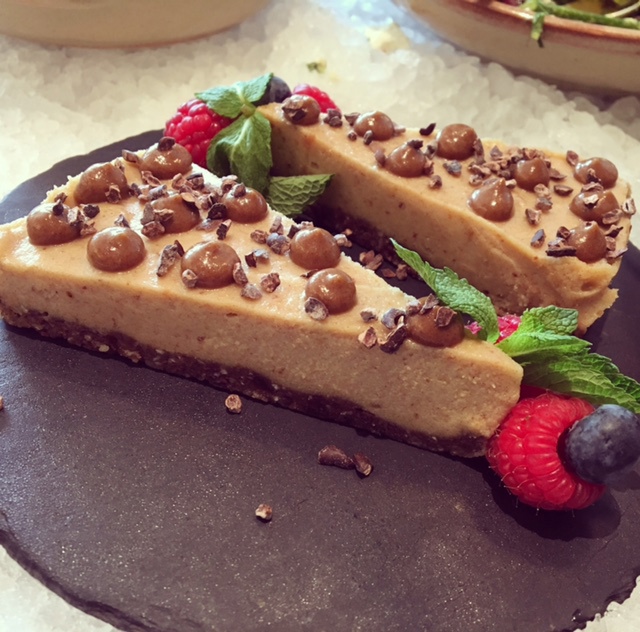 What do I need...
CRUST
¾ cup of Pecans
¾ cup of Cashews
½ tsp of Sea Salt
¾ cup Pitted Baking Dates (soaked in hot water for about 15 minutes to soften , then drain)
¼ cup Shredded or Desiccated Coconut
Pinch Cinnamon (optional)

FILLING
2 ½ cups of Raw Cashews (Soaked overnight or for at least 8 hours, drained and rinsed)
1 cup Pitted Baking Dates (soaked as above)
¾ cup of Maple Syrup
¾ cup Coconut Oil (Liquid form – put jar in pot of boiling water to liquefy and then use)
¼ cup Tahini
2 tsp Vanilla Extract
2 – 3 tbsp (25 grams) Cacao Butter (melted)
¼ cup Water
What do I Do...
For the crust: Process the nuts into small pieces with the salt in a food processor. Slowly add dates and mix well, then mix in coconut. Press crust into the bottom of a cheesecake dish or pan (8 to 9-inch size pan), and place in refrigerator until needed.

For the filling: Blend all ingredients in your blender/ food processor until it blends to a smooth creamy mix. The smoother the better. Pour onto the crust in the dish and place in the freezer for about two hours until firm. Then refrigerate until serving. If doing the 'swirl', swirl on the cake once the caramel layer has been in the freezer for 10- 15 mins to firm up a wee bit. Importantly, as a finishing touch – before serving this delectable treat, sprinkle with a quality sea salt and voilá– raw 'salted caramel' cheesecake!