EAT: Sheila's Seed Bars
These little beauties are so delicious and extremely easy to make. Great for an on the go breakfast or mid-morning snack! 
Granola bars are a perfect morning or afternoon snack, but so many of the ones on the market are full of sugar and not much else. These little beauties are gluten-free, full of antioxidants thanks to all of the seeds, and just sweet enough.
They will release energy slowly to keep you going until lunchtime, and will keep in the fridge for a week but we doubt they'll last more than a couple of days!
Sheila
Creative Chef, Raw & Cured x
Raw & Cured Signature Seed Bars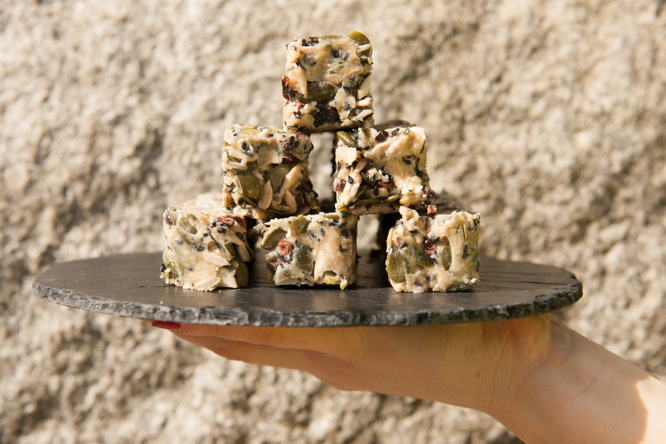 What You Need…

1 cup Sunflower Seeds
1 cup Pumpkin Seeds
1 cup Desiccated Coconut
½ cup Dried Cranberries
¼ cup Black Sesame Seeds
¼ cup Cocoa Nibs
1 cup Maple Syrup
2/3 cup Cocoa Butter (melted)
1 cup Tahini
What You Do…
Place all of the seeds, coconut, cranberries and cocoa nibs into a large bowl.
Melt the cocoa butter.
Place the maple syrup, tahini and the melted cocoa butter into a blender and blitz to a smooth liquid
Pour the mixture over the seeds and combine thoroughly
Spread the mixture evenly over a greaseproof lined baking tray or plastic container and transfer to the fridge
When fully set, turn the mixture out onto a chopping board and portion into bars
Happy snacking!​