EAT: Warm Spring Vegetable Medley - Amelia Freer
This is a real celebration of spring veg!
This is a real celebration of spring veg. The ingredient list here could easily read 'any green spring vegetables that your garden or greengrocer has to offer', so use the method as a base and try other greens like globe artichokes, chicory, baby spinach, or little gem hearts. The broad beans and peas both provide some filling plant-based protein and fibre.
Amelia x
Warm Spring Vegetable Medley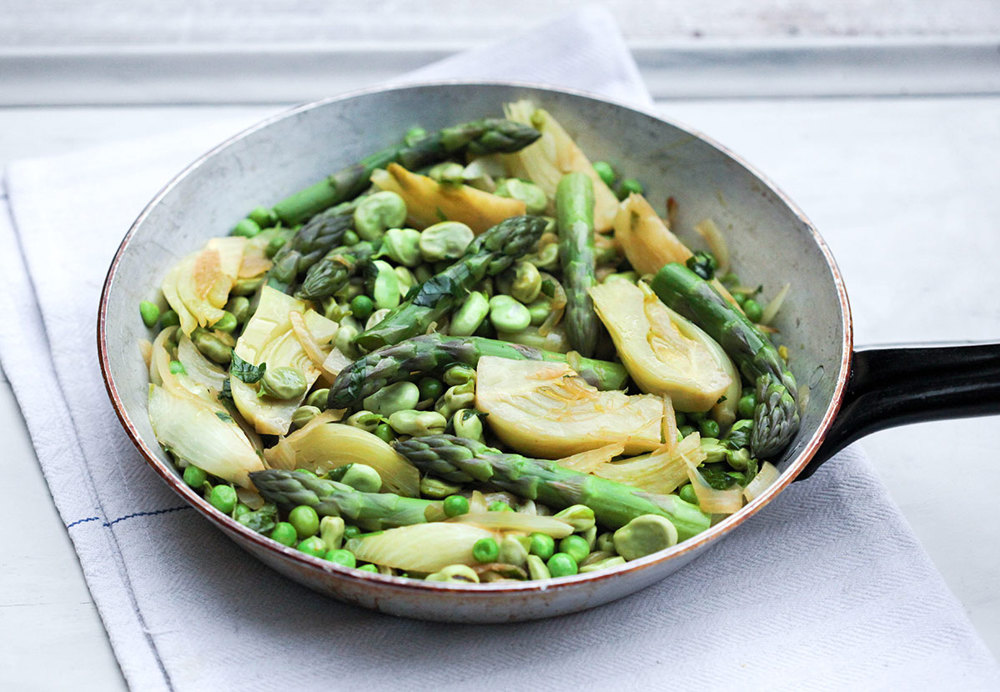 Serves 4
What do i need...
2 tbsp good olive oil
1 large onion, sliced
2 small heads of fennel
300g broad beans, podded
250ml chicken or vegetable stock
200g peas
1 bunch of British asparagus
a squeeze of lemon juice
salt and pepper
What do i do...
In a large frying pan, heat 1tbsp of olive oil and gently sauté the onion for 5 minutes.
Trim the fennel head and cut into 6 or 8 wedges. Add these to the pan and cook for 4 minutes before adding the stock and broad beans.
Bring to the boil and then simmer vigorously for 4 minutes. Add the peas, and asparagus and cook for a few more minutes until all the vegetables are cooked and the liquid is all but gone.
Finish with a generous squeeze of lemon juice, a drizzle of olive oil and season to taste. Serve warm, great with lamb or fish and just as tasty the next day cold for lunch.
For more recipes and nutritional advice from Amelia why not pick up one of her books. Find out more here
Looking after yourself has never been easier or more straightforward than with Amelia's latest book Simply Good For You - over a hundred delicious, quick and non-nonsense recipes that are as healthy as they are tasty.