English Sparkling Wine: Q&A with Corinne Seely - Exton Park Vineyard
Under an hour away, just 32 miles down the road, nestled away on the outskirts of Winchester you'll find Exton Park Vineyard. We sat down with Corinne Seely, Wine Director, to find out all about wine-making in Hampshire…
18 June 2021
Under an hour away, just 32 miles down the road, nestled away on the outskirts of Winchester you'll find Exton Park Vineyard – home to 60 acres of vines, all planted on pure chalk soils. This English Wine Week we're celebrating the best of English wine at HH&Co by pairing Exton Park's RB|28 with fresh asparagus, seasonal hummus, grapefruit pieces and dill oil with fennel and mint. Fancy knowing a little more? We sat down with Corinne Seely, Wine Director of Exton Park to find out all about wine-making in Hampshire…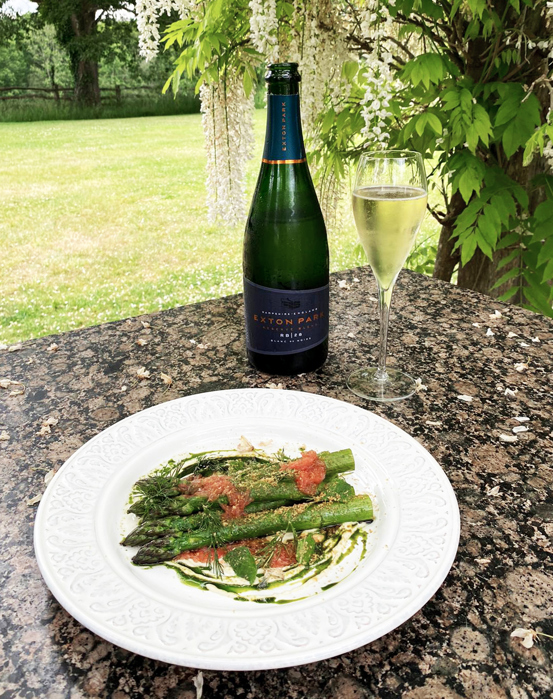 Let's start from where it all began! What's the story behind Exton Park Vineyard?
The first vines in our vineyard were planted in 2003 however we built the winery in 2011 and have spent the past 10 years patiently perfecting our wines to create a range that delivers the highest quality and taste. It's been quite a journey but a very enjoyable one!
Exton Park is classed as a single vineyard. That means that we don't buy grapes in from other vineyards. We control the whole process from soil to glass, from nurturing the vines, hand selecting grapes, and the pressings, through to blending, bottling and labelling. We are proud to be the only single vineyard in Hampshire and to offer such a high level of quality.
What's unique about your location in Hampshire and why does it produce such great tasting wine?
I believe that the natural environment and growing conditions for vines have a big impact on the style and taste of wines. We have very chalky soil at Exton Park which creates a very distinctive style of sparkling wine that is fresh and vibrant. It is fascinating to see how the chalk affects different grape varieties in different ways.  
On our 60 acre vineyard we have nine plots with different aspects and altitudes. Each plot produces so many different flavour variations, even within one grape variety. The Pinot Noir at the top of the vineyard often tastes completely different to the Pinot Noir at the bottom. It's magical to have all of these flavours available when I'm blending the wines. And I am always amazed that one single vineyard can produce such a diversity of wines from the same vines.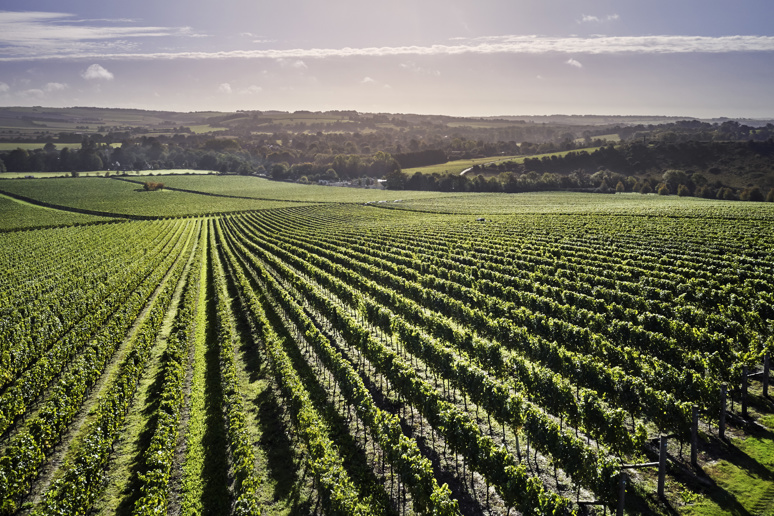 What grape varieties do you grow at Exton Park Vineyard?
Chardonnay, Pinot Noir and Pinot Meunier.
How does the English climate influence the wine you produce?
England has been my best challenge ever. It is not an understatement to say that the English weather can be completely unpredictable and that you can have four seasons in one day!
To create the highest quality, consistent sparkling wine, I have developed my own blending method to avoid being reliant on one harvest. We call this our 'Reserve Blend' because it draws on a 10 year library of reserve wines that I have been storing in my winery since 2011. The majority of wines used in my blends come from this library so I can mix and match to create the exact same taste, year after year across our Brut, Rosé and Blanc de Noirs.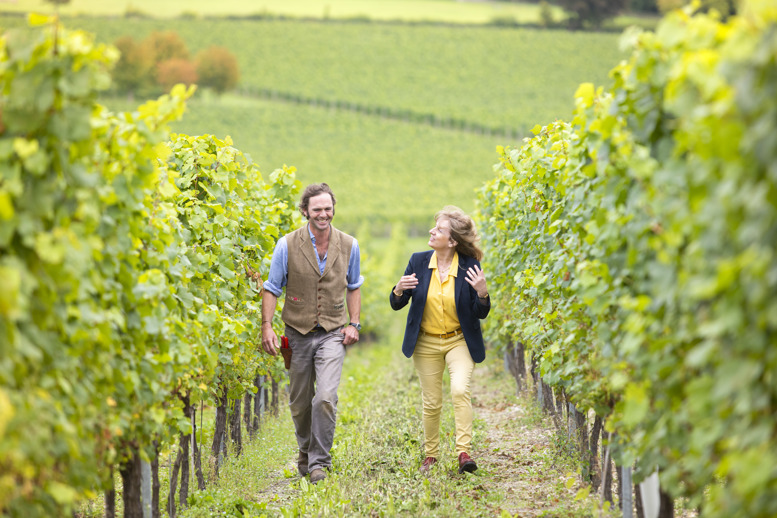 Despite the soaring popularity of English wine, the general public are still yet to fully embrace English grapes above other producers. What is your advice to someone who is new to trying English wines?
My advice would be to try them all! There are so many variations in style and flavour. When you sample Exton Park, be prepared to taste something truly different! 
How do you see the future of English wine?
The English wine industry is entering a phase where vineyards and winemakers aspire to be premium. And now that people understand and no longer consider English sparkling wine to be a pale copy of Champagne, the market will grow and develop.
Everybody has seen how English sparkling has improved over the past decade and how we are defining our own category. Now consumers have a great opportunity to discover their own taste.
I would finish by saying that now that the premium quality has been recognised, the English industry should think of a distinctive name because 'English Sparkling Wine' is not particularly romantic, if I may say…!
Sign up to get Lime Wood Lowdown straight to your inbox!
Featured post
Muscle strengthening, balance building and bags of fun! Powerhoop is your new favourite fitness class coming to Herb House Spa on October 21st, which will be taught by one of our very own members Charlotte Dawson.
 
Read the post
You may also like...
Our go-to-guru and Skincare expert Sarah Chapman reveals her expert tips for keeping your skin healthy and balanced as we move into the colder months.

Read the post