The Lowdown with Studio Knoga
Studio Knoga design and create bespoke, made to order knitwear that is sustainable and handcrafted locally in the New Forest!
We are excited to introduce Studio Knoga products into Curated, our Herb House Spa shop, and wanted to get to know them a little better…
Tell us a bit about Studio Knoga and how it came about?
Studio Knoga is a sustainably hand-crafted knitwear brand infused with loving energy, promoting restoration and wellness through ethically made products with responsibly sourced materials - using premium Italian yarns and Belgian fillings that are hypoallergenic, organic, and toxin-free.
Studio Knoga's (pronounced no-ga) foundation is the fusion of knitwear and yoga, but has since expanded into the luxury, sustainable and ethical brand it is today.
With a focus on restoration and wellness, Studio Knoga only uses the most premium, luxury Italian yarns that all follow strict certification guidelines. Where, how and who produces the fibres we ultimately adorn our bodies with is absolutely fundamental and the very basis of Studio Knoga, from GOTS (global organic textile standard), SFC (sustainably farmed certified), RWS (responsible wool standards) to HIGG index (ensuring the protection and wellbeing of textile workers) we ensure your peace of mind when commissioning your bespoke knitwear.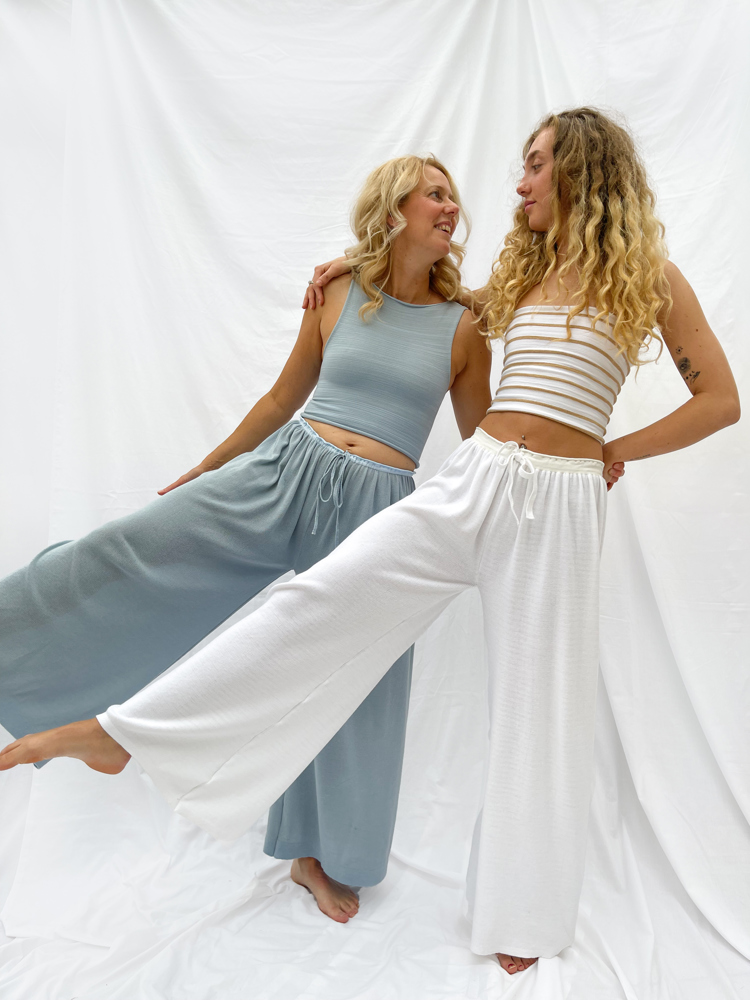 What inspired you to start Studio Knoga?
Studio Knoga was conceived after an intensive healing period; as a celebration of returning to health and waking up pain-free once again, our founder decided to train as a yoga teacher. "Our health is our baseline, without it, we are struggling and suffering to lead open-hearted and joy-based lives". This is often forgotten and Studio Knoga represents the kindness, comfort and self-care needed to protect our nervous systems and continue to live in parasympathetic bliss. 
Tell us about your products and how they are made
"Creating products that are as kind to your skin as the planet."
Studio Knoga began creating yoga accessories to accompany the founder's taught yoga classes, a studio with a selection of bolsters, meditation cushions, yoga mats, eye pillows of varying colours and designs with a question posed "what are you naturally drawn to today? what colours are calling your name for this practice?". However, post-pandemic called for the rise in comfortable, luxury loungewear/yoga wear to feel elegant and flattered in that carried you from your mat to your morning coffee, to your home office throughout your day whilst tending to your needs.
Every piece is hand-knitted on a vintage industrial manually powered knitting machine, championing a slow and kind manufacture, returning to a long-forgotten way of life. Infused with loving energy, the way of Knoga is centred around community and collaboration - we discuss your desired fibres, feeling the drape, softness, warmth of each yarn, deciding on your colour palette, discussing how colours make you feel, what tones are you drawn to, what mood would you like to evoke when dressing for your day, your practice or your mat, we take your measurements and discuss design possibilities to co-create your unique knitted piece.
There aren't endless piles of clothing awaiting their summoning in a stock room, we believe the future of how we wear our clothes is ironically based in the past. Let's work towards a future landscape where we return to made to order and individual approaches to the way our clothes and products are made.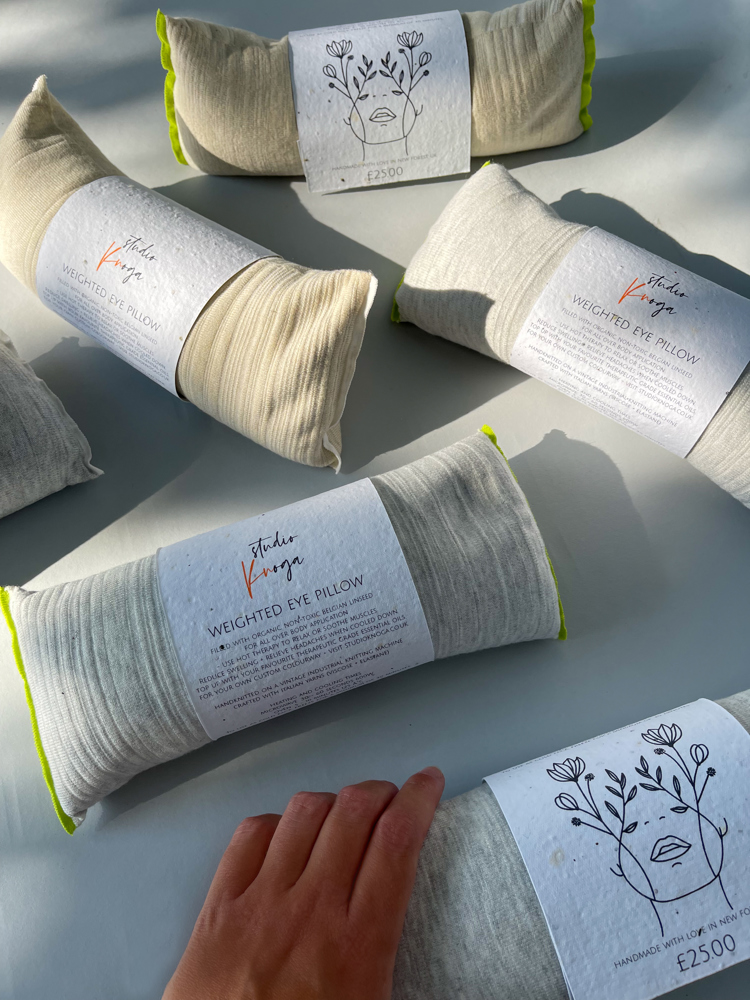 How has the pandemic influenced your business?
The pandemic taught Studio Knoga that perfectionism doesn't exist, it is merely a construct that inhibits progress. This period of forced inwards reflection was an absolute blessing in disguise as it allowed the deepening of what it means to really live slowly, the buzzing and the messiness of time's rhythm continued to fade into the background. I am so grateful for beginning this journey with the practice of yoga from the depths of a rock bottom and the pandemic further challenging what it means to maintain a resilient nervous system in the midst of a global crisis. Who knows whether meditation and breathwork would have become so intrinsically linked to my daily wellbeing rituals without it? But I do know how much it has impacted my health and creative process now.
The community that is slowly building and naturally attracting to Studio Knoga is one of great beauty; the conversations we share and the collaborative creative projects that are so inspiring to witness - we are so grateful for. As we head into autumn/winter, we see the season of knitwear really come into its own - plenty of cosy jumpers, draped trousers, sweater vests and as always, the winter warmers - weighted eye pillows are a festive favourite. 
Have you got anything new coming up, any new products or projects we can look forward to?
Pre-pandemic, the original idea of Studio Knoga was to be based in The New Forest for spring/summer, then during the winter months holding monthly creativity and yoga retreats in The Canary Islands. This is definitely still on the company's cards - just awaiting the time to align. We believe there is so much happiness, freedom and joy rooted in the ability to play with your hands, without expectation or judgement - simply making. Complimented with gentle, restorative movement, breathing and being with nature is a beautiful recipe for healing. Studio Knoga will work towards holding space and curating these experiences, so come along for the journey and we can't wait to welcome you in the future. 
Browse their range of knitwear here or come and take a look in Curated, our shop at Herb House Spa.