The lowdown with Weaver Green
Based in Kingsbridge, Devon, Weaver Green create a range of beautiful handwoven rugs and textiles all made from recycled plastic bottles. We chatted to the founders of Weaver Green to find out a bit more about them…
'People often ask how it came to be that a cider-maker and flooring specialist ended up making recycled plastic rugs and textiles from discarded plastic bottles. It's a fair question, and one we're only too happy to answer.'
Based in Kingsbridge, Devon, Weaver Green create a range of beautiful handwoven rugs and textiles all made from recycled plastic bottles. Some of you might have already spotted their beautiful range of handmade products in Curated before and if you haven't why not pop in and take a look at their range of Oxford stripe blankets, Hammam throws, aprons, tablecloths and napkins.
 We chatted to the founders of Weaver Green to find out a bit more about them…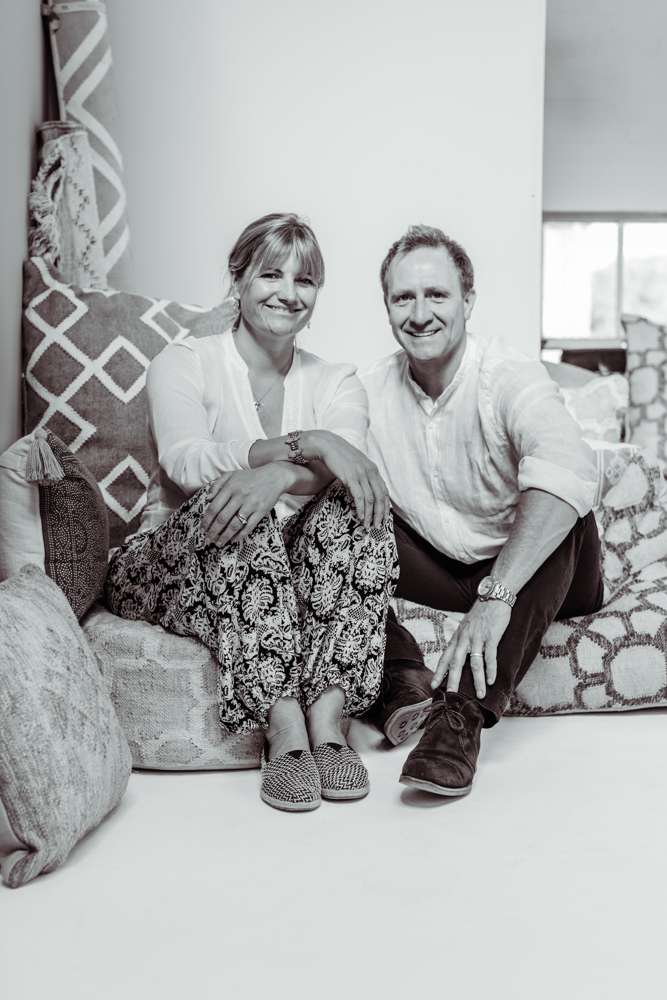 Tell us a bit about how Weaver Green came about?
It all started when founders, Tasha and Barney were travelling in Asia and stumbled across a very rudimentary fishing rope, made from unravelled plastic bottles, lids and all. Used to tether fishing boats, the rope was both strong and waterproof, and offered a moment of inspiration to the intrepid couple. Could they take some of the mountains of plastic waste that is polluting our seas and landfill and turn it into a useful and practical yarn?
With a long history in the flooring industry, Barney was no stranger to the intricacies of weaving houses throughout the world, while Tasha's organic drinks business, design and love of antique textiles gave the couple a strong environmental ethos. The opportunity to help clear up some of the 35 billion plastic bottles that end up in our seas and landfill every year was too good to miss so Tasha and Barney began exploring the many ways that this practical, robust material could be given a second, more long-term use within our homes and gardens.
The biggest challenge was perfecting the means to turn hard plastic into lovely open fibres that would provide all of the softness and texture of wool. It took 7 years to create the perfect textile, that not only has the look and feel of wool, but is also machine washable, stain resistant, environmentally friendly, and suitable for indoor and outdoor use. 
What inspired you to start Weaver Green?
When we first thought of the idea of recycling plastic to make a yarn, we went to every manufacturer we knew and asked them for help in developing a 100% recycled plastic fibre yarn. They all said it was not possible and that the economics didn't stack up, and instead offered to make us a yarn from 100% virgin new plastic!
On the basis that no one would help us, and a (probably misguided) determination that it would be possible to make this yarn from recycled materials only, we decided to try to make it ourselves.
After 7 years of failures, frustrations, highs, lows and tears we finally managed to make a yarn that was not only fabricated solely from recycled plastic bottles, but most importantly, had the look and feel of a natural fibre like wool. This was important to us, as in reality however brilliant an idea is, you have to really want to have the product in your home, both from a design perspective and also have something that would feel natural and good on bare skin and underfoot.  This part of our product development took the longest to achieve, and we are very proud of the fruits of our labour – we just couldn't compromise on this element and our perseverance did finally pay off.
We also decided early on that the whole underpinning of our business model from inception and in all our practices had to be one of sustainability.  This value is at the very core of our ethos and is the backdrop to every decision we make.
With that in mind we follow the following practices.
We work in developing countries, where there are huge issues with waste plastic and no government infrastructure to deal with plastic waste. Plastic pollution is a global issue, and we are all connected by it.
We give value to waste plastic and employ locally where plastic pollution has the most impact, paying living wage rates for communities to collect plastic waste, process it and create our yarn.
We import our technology and practices into these countries including the exclusive use of closed water manufacturing systems, use of recycled rice/wheat husks to heat our dye vats, use of nontoxic dyes etc.
We seek to employ women in developing countries across all levels of our business, from plastic collection hubs, through to independent inspection of our manufacturing premises, financial services, and administration.
We use compostable and/or recycled and recyclable paper and card packaging for all our products
We invest in carbon neutral schemes including woodland planting and restoration.
We have made a conscious decision to grow sustainably and organically and to work on a financial model that seeks to pay our weavers and partners proforma for their work.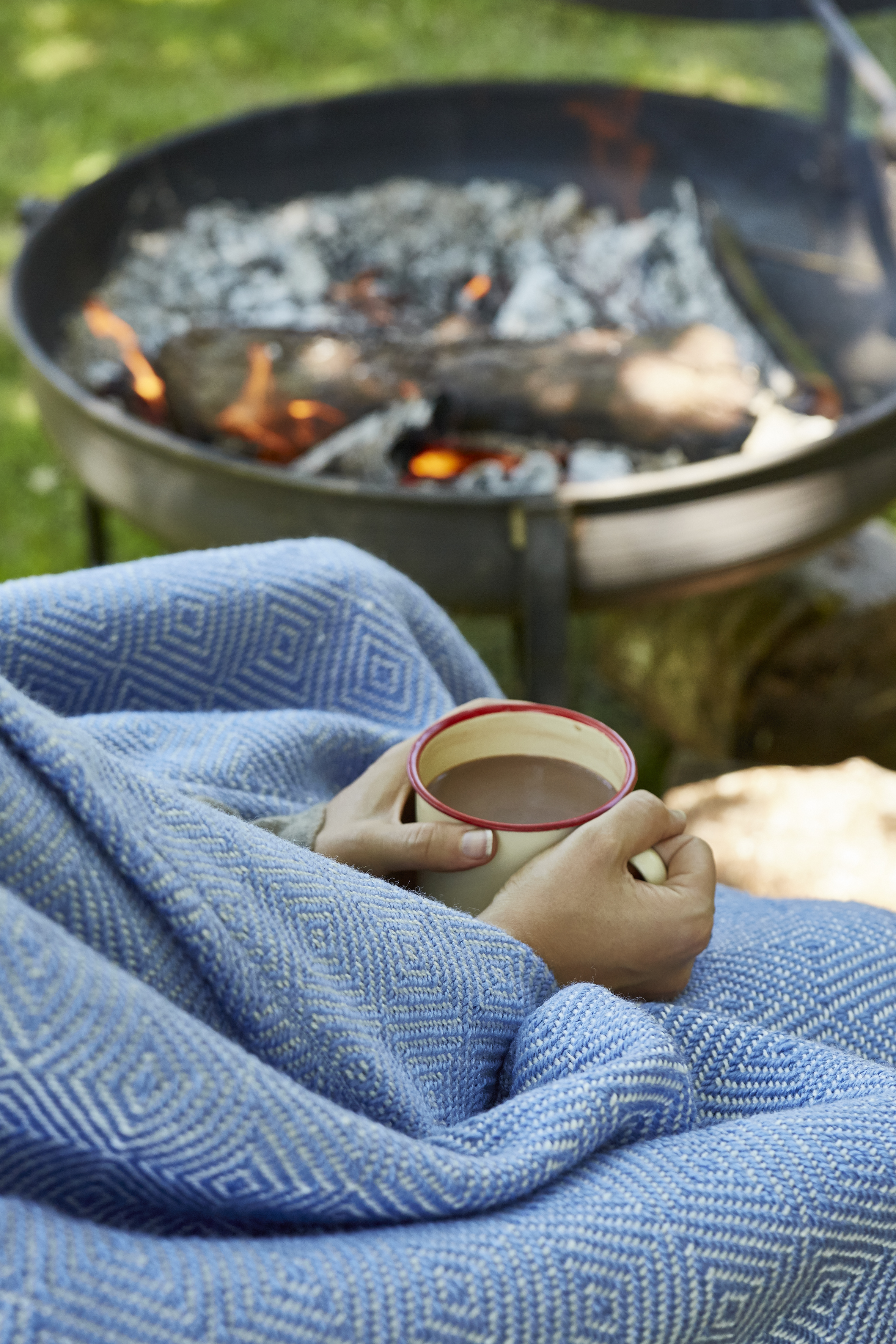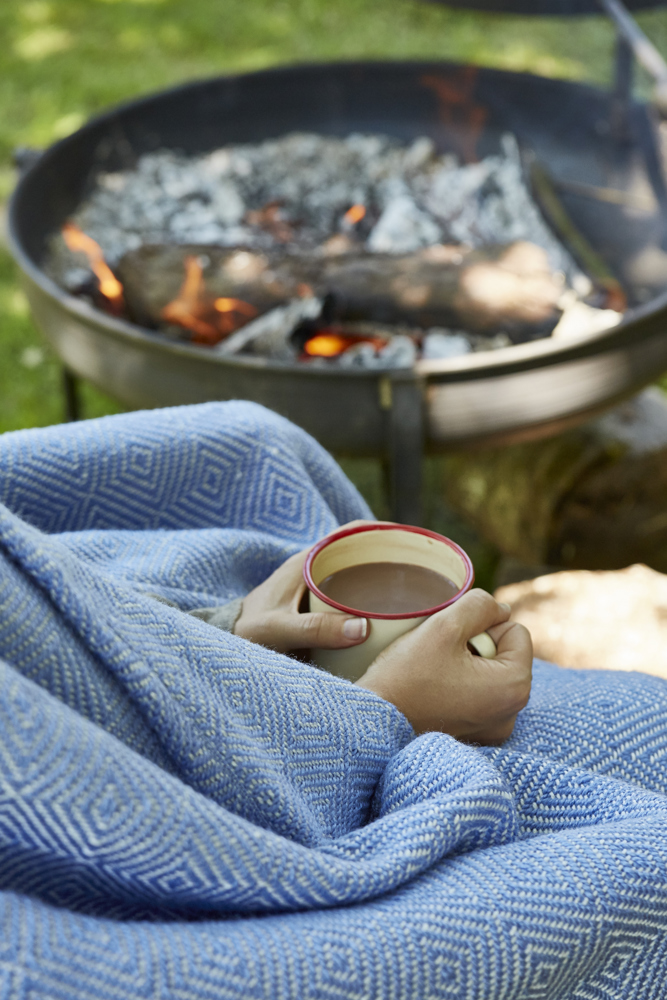 Tell us a bit more about your products and how they are made? What makes your products unique?
We take single use plastic bottles, (approx. 40% from waterways and 60% we try to intercept before they hit landfill), we then sort the bottles by colour, remove the caps (which are made from polypropylene which is a different plastic from the PET of the main bottle, and so needs to be separated so it doesn't contaminate our PET plastic). The bottles are then washed, chipped, heated until liquid, extruded into filaments, stretched, steam heated, combed to open the fibres, and then finally spun into a wool/cotton/linen-like yarn.
We use approx. 300 recycled plastic bottles to make our blankets and up to 5,400 recycled plastic bottles to make our rugs.  All our products are not just 100% made from recycled materials, they are also 100% recyclable, as they are uniquely made from a mono material with no separation needed.  They can just be sent for recycling with no separation needed.
Because they are made from recycled plastic all our rugs and textiles are machine washable, hypoallergenic, stain resistant, UV stable and can be used indoors and out. Moths won't eat them, and pests won't live in them.  They are hardwearing and soft underfoot or on bare skin. We even use our recycled plastic fluff as a filler for all our indoor/outdoor cushions and dog beds.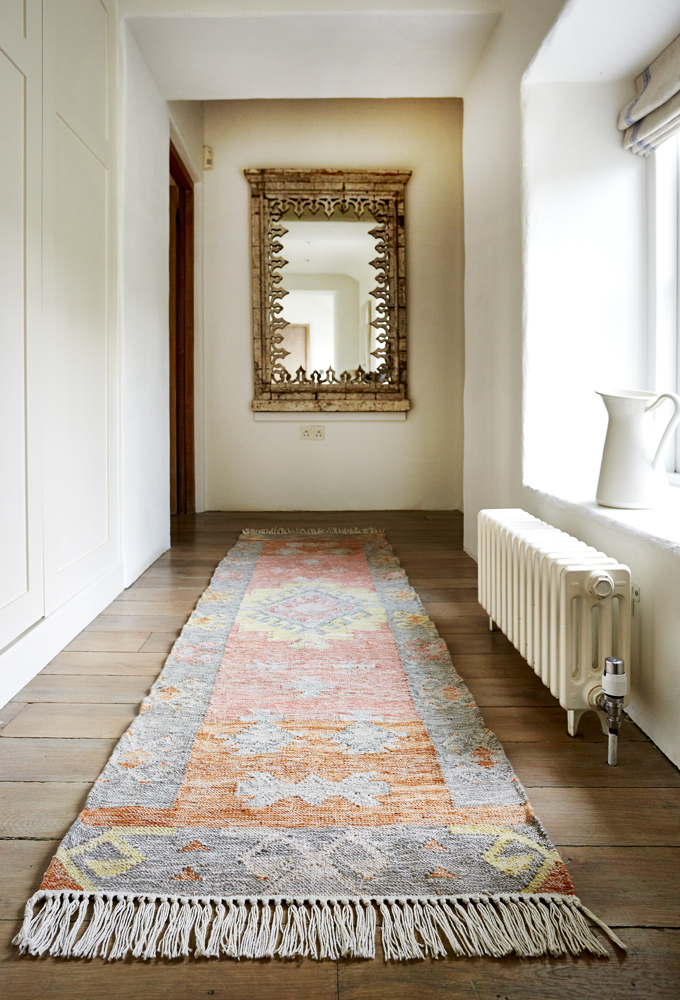 How has the pandemic influenced your business?
With all that has been going on in the world, one of the great outcomes of the pandemic has been a greater appreciations for the simple things in life, and people have really rediscovered the importance not just of the environment they live in, but where people have had more time to research their consumer choices, we feel that they have definitely looked more at supporting companies that genuinely hold sustainability and good ethics at the heart of their operations.  We have found a much more engaged customer base, with lots of brilliant communication and enthusiasm for our little company. 
People are working from home more, so have wanted to invest their time and energy into making their living spaces more beautiful.  I feel people have had more time to also really decide where they spend their money, and they have looked to support smaller more innovative and sustainable businesses. This is great news and encourages innovation and a more environmentally friendly approach to business.  Innovation nearly always comes from the little guys struggling to set something up from a garden shed – we were there once, and I encourage anyone who feels they could make a difference to just go for it!
Where are you most excited about travelling to when you can?
I feel I have fallen more in love with England during this past year.  I have missed driving down to Cornwall (we love THE PIG-at Harlyn Bay) for a weekend of surfing and coastal walks – we live in the most beautiful place and I strangely don't tire of the land and seascapes of our patch of Devon. That said a trip on the Brittany Ferry and driving down the wonderfully wild west coast of France with a boot full of great wine and all the amazing brocante antique markets en route is hard to beat.  We will probably need to take a van as I can't resist buying furniture and mirrors… it's a habit that's becoming problematic in our household!
What has inspired you most about your travels?
Everything we do at Weaver Green has been routed in our experiences whilst travelling, from our initial light bulb moment with the fishing line made from old plastic bottles, through to the inspiration I have had travelling in areas with a strong culture of textile weaving and colour.  I love India, and we have great friends there, we fell in love and married there many years ago, and the combination of colour, vibrancy and incredible architecture always inspires me.  I love tribal rugs and tapestry, and the way that the patterns and techniques tell the story of any culture.  I am obsessed with collecting embroidery and love the suzani's from Uzbekistan, the history and role they played in women's lives and the skill that these amazing works of art show.
I am also inspired by not just the differences of culture, but also the similarity of humanity, and love the relationships that can be made with strangers even though neither party speaks the same language.  I have missed the greater world in the last year and look forward to getting out there again with an open mind and a sketch book.