The Lowdown with...Amelia Freer
Amelia is our nutritional and wellbeing expert. The Lowdown caught up with her on life in lockdown at home in Wiltshire...
At Lime Wood we have teamed up with Nutritional Therapist Amelia Freer to introduce her nutritional guidance throughout our services so that those looking to support and enhance their well-being have access to the most nourishing options. Amelia is now our resident wellbeing and nutritional expert, or 'Go-To Guru'. 
Amelia believes that food can be a very powerful tool for well-being and her purpose is to help others to enjoy the many benefits of nutritious food – food that is accessible, easy to make, that bursts with goodness as well as flavour. She takes a scientific and holistic approach and is vehemently against fad diets and exaggerated food marketing hype. Also a three times best selling author, Amelia has successfully helped thousands of clients to lead happier, healthier lives through nutrition and lifestyle measures.
A well nourished body is stronger and more resilient and better able to face the challenges of modern day life and it need not be complicated. Keeping it simple is key. Good nutrition is, first and foremost, a celebration of food! 
So The Lowdown caught up with Amelia to find out about her life in lockdown at home in Wiltshire...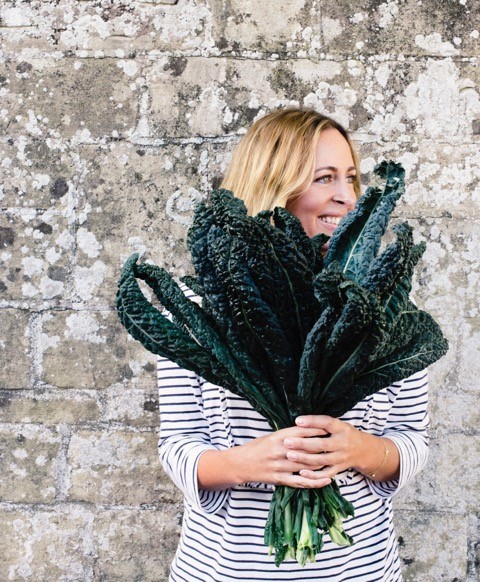 What are you cooking at home?
Lots of simple, batch-cooked meals. We are eating tonnes of soups, stews, vegetable curries & dahls, frittatas, salads, trays of roasted vegetables and other easy dishes, many of which are from my latest book Simply Good For You. Mealtimes are the structure around which we base the rest of our days and are a time to come together as a family.
What are you listening to?
I really don't have time to listen to anything as I'm running around 6 – 9pm after a very active toddler. Mostly its Peppa Pig and Fireman Sam! If I do find a quiet moment, I'm quite selective about what I listen to as need to keep a lid on the news or drama fueling anxiety. So I'll choose upbeat music or a cheery podcast.
What are you reading?
I have been dipping in and out of Willow Crossley's The Wild Journal It is a beautifully illustrated guide from leading florist and nature writer Willow. Guiding you through creative practical projects and therapeutic seasonal reflections, it celebrates the potential of nature to mend, heal and transform our mood.
Drink of choice?
Water! With the warm weather, I've been keeping big jugs of lemon water in the fridge, or flavouring it with mint and cucumber, or blueberry and orange peel. And a gin and tonic or a glass of white wine in the evenings.
Where will your first travel destination be?
To see my family in Mallorca.
What will be the first restaurant you go to?
Oh, I hadn't really thought about that one. Probably our local pub for a Sunday lunch. But now you've asked, I'm definitely going to have to ponder this a bit more. And really look forward to it!
What are you watching?
I don't watch TV much but I do have binge watching sessions of boxsets if I can get an early night. I have loved watching Belgravia. And Grey's Anatomy is an old favourite. I can easily get lost in cooking or gardening programmes too!
Current beauty regime?
Water, sleep and sun cream! I try to do a facemask once a week and I learnt how to do good facial massage from Sarah Chapman so I spend time doing that each evening.
Do you have a fitness plan or movement plan?
I don't have a plan, but I am doing lots of walking with my daughter, yoga when I get a chance (I use various online classes) and a lot of garden digging and maintenance.
Your lockdown outfit?
Lately with this gorgeous weather I'm enjoying being in lovely floaty sun dresses. I bought a lovely one from Lexilondon and another denim one from FatFace as recommended by my friend, the stylist, Angie Smith. Otherwise, I'm in leggings from Sweaty Betty and flip flops.
Any tips on making lockdown easier?
Relax your expectations. This is a very different time, with very real challenges. We cannot hold the same standards for ourselves, or those around us, as we might normally expect. The motto I keep on repeating to myself is that good enough is perfect right now.
For plenty more ideas, my team and I put together lots of self-care tips and resources for the time of Coronavirus in a new 6-part article on my website, so head over there if you'd like more support – www.ameliafreer.com. You'll also find dozens of free recipes and other healthy tips and advice too.
Why not try a few of my favourite spring recipes in your own kitchens? 
Follow Amelia on Instagram @ameliafreer