The Slow Down with Sarah Chapman
We caught up with our go-to-guru and expert facialist Sarah Chapman to find out how she is coping with lockdown and she gives us her top tips for slowing down.
11 February 2021
One of London's most sought-after facialists, Sarah Chapman's client roster features A-list celebrities, beauty editors and discerning facial obsessives. Sarah's Skinesis clinic, tucked down a quiet street in Sloane Square, is the capital's number one destination for those pursuing perfect skin. Seamlessly melding Sarah's signature 'gymnastics' massage technique with high-tech wizardry and potent cosmeceutical products, a Skinesis facial delivers calm, rejuvenated skin that glows with youthful radiance.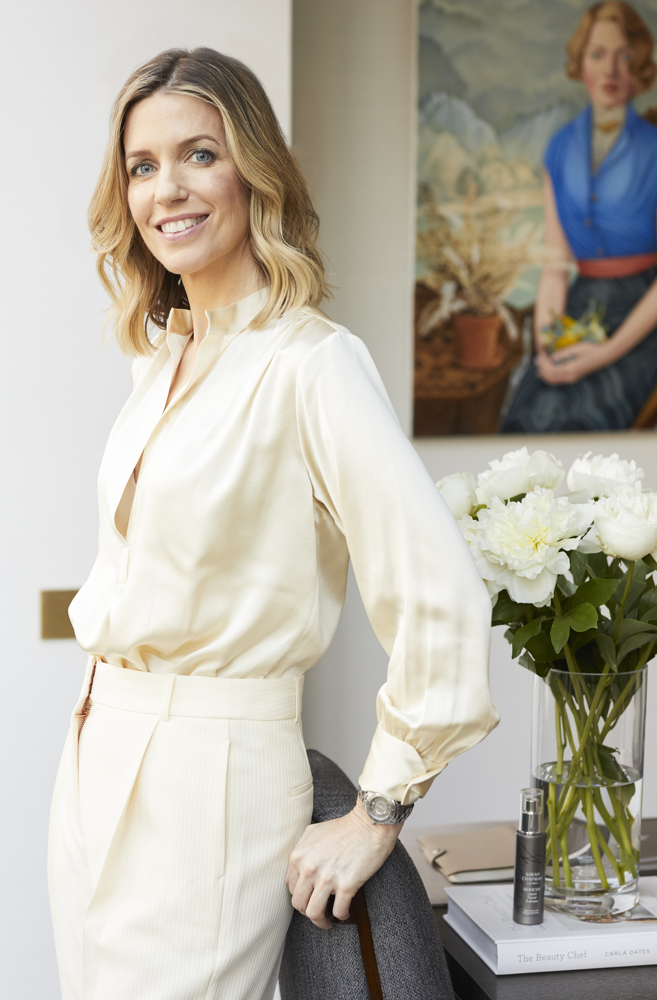 We caught up with Sarah to get her top tips for slowing down...
In a normal month, my diary is packed with meetings and sees me travelling all over London and beyond. Lockdown, whilst challenging in many ways, has encouraged me to reassess my habits – and potentially create some new, improved ones! Here are some of the tips that have helped to keep me grounded during the last few months.
Soul Food
Post-Christmas, I always think it's time to tighten the reigns and refocus especially when it comes to diet. A fabulous and healthy winter warming option is always a good soup. Easy to make, full of goodness, and you can batch cook and put in the freezer for those days you just don't feel like spending hours in the kitchen.  Amelia Freer's tomato and lentil soup is a firm favourite in my household, a classic hug in a bowl.
Weekend's however call for something a little more hearty. My preference has to be a roast lunch on a Sunday afternoon, especially when all you want to do is hunker down on those cold damp days. Roast chicken, roast potatoes, plenty of veggies and lashings of gravy, perhaps even accompanied with a glass of Pinot Noir – now that really is good for the soul!  I also love a weekend breakfast and I cannot wait for my next Limewood brekkie in the Scullery!
Make Time for TLC
If you're missing your professional facials, or simply craving some TLC, facial massage can encourage some much-needed 'me time', and restore a sense of connection to your body. Just a five-minute session will stimulate circulation and give an instant glow. You can follow my professional technique on sarahchapman.com/signature-massage/ or try my Facialift device for an easy introduction to facial massage.
If you are really ready to pamper yourself set up a home 'treat zone'. Light a scented candle, dim the lights and then give yourself a full facial with a good cleanse, massage and mask and practice some deep breathing techniques. You should take a few minutes relaxing with your mask on, close your eyes and breathe.  Every time you step into this zone you should feel an immediate sense of relaxation.
Get Moving
Exercise is key for an instant mood booster. During the week I have a rigid exercise routine consisting of a 7am walk in the park with my Italian Greyhound Sidney, followed by an intense Peloton cycle session - I love the flexibility of these classes and the instructors are so motivating! One of the benefits of this time at home is to be able to incorporate exercise into my daily routine and start my working day a little later.
When I fancy a slower pace, I'll go on a really long walk with Sidney, it's so nice to blow away the cobwebs and have some really good reflection time and I listen to great podcasts to expand the mind. I then come home, roll out my yoga mat and really enjoy some core and stretch work – I find this works my muscles in such a different way to the intense Peloton classes and really relaxes my body and mind.
Stay Connected
I know keeping in touch with friends and family can be challenging at the moment, but it can be so rewarding to catch up with loved ones, especially at a time when many of us are feeling disconnected or a little lonely. That said, after a long day of virtual meetings, I want to minimalize my screen time, so instead of yet another Zoom or Teams meeting, I prefer to pick up the phone and have a good old fashioned chin wag!
Treat Yourself
With all the working from home we have done this past year, it has made me look at my home environment differently and so I have been treating myself to a mini home makeover, nothing huge, just a new cushion here, or a photo frame there – a few little tweaks. In lockdown life, it is so easy to surround yourself with post-it notes, laptops and iPads. However, it is so important to be able to switch off from work and get back to a serene and calm living space. Spend some time on Pinterest- I find it really useful and have created some fun home design boards which I can drift off into and dream about gorgeous homes.
Find out more about Sarah here.
Featured post
Muscle strengthening, balance building and bags of fun! Powerhoop is your new favourite fitness class coming to Herb House Spa on October 21st, which will be taught by one of our very own members Charlotte Dawson.
 
Read the post
You may also like...
Our go-to-guru and Skincare expert Sarah Chapman reveals her expert tips for keeping your skin healthy and balanced as we move into the colder months.

Read the post