Coronavirus / COVID-19 Statement
We are OPEN!
A Message from our CEO & Chairman 
Dear Friends of Lime Wood, our community of suppliers and our incredible team,
Well, what extraordinary and challenging times we have all witnessed during these past few months, but right now we are just delighted to be open and returning to some sense of normality.
The team is now back in the swing of things after their enforced 3-month furlough break and are eager to get going on what they do best……looking after all of our guests in the charming, personal yet professional way that's at the heart of Lime Wood culture.
Our first priority is to keep everyone safe, that's you our guests, but also our team. We see this as a partnership of trust, so we ask that when you do come and see us to please play your part in keeping everyone safe. In return we will all be doing the same for you.
This is new territory for us too, we would ask you to be patient with the team, there is a chance some things might be a little less snappy than usual whilst we all get used to the new way of doing things!
We want summer at Lime Wood to be as normal as possible - so if you do visit us, spend loads of time outdoors on the terraces, in the grounds and gardens, head to the Courtyard bar or lounges, talk to us, relax and enjoy some time in the New Forest. We would just advise that you do book or call ahead in advance, with reduced capacities we cannot always guarantee that we will be able to accommodate walk-ins and would hate to turn you away.
Finally and above all, thank you all for the unfailing support throughout the past few months - we couldn't have done it without you! We hope to see you for a glass of something fizzy very soon.
Best,
Robin
CEO & Chairman
When can I stay?
We are now open for Hotel bookings! 


Can I Book a Table?
Initially we will be operating with a reduced number of tables in our restaurants due to physical distancing, so availability will be limited. 
We are currently taking Lunch, Dinner and Afternoon Tea bookings only for non-hotel guests.

It is essential you book online or call ahead to book in advance. With reduced availability as we cannot guarantee that we will be able to accommodate walk-ins and would hate to turn you away.



Can I visit The Herb House Spa?
The Herb House is now open! 
Raw & Cured, our food-bar, the Curated by Lime Wood shop, and our treatment rooms are open to all.  

For now the Herb House Spa facilities, including the pools, gym and fitness studio are only open for Hotel guests and Herb House Spa Members so that we can manage the capacities in the spa and ensure that physical distancing is possible. 
Find out more about access to the Herb House here.
and the good news for 2020!
We have opened bookings for 2021 so that you can get planning all those special occasions or last-minute getaways that you have missed with family and friends this year!



Book with confidence
What happens if I need to cancel?
Hotel bookings can be cancelled or transferred up to 72hrs prior to arrival. If you need to cancel or amend your booking within 72hrs of arrival due to COVID-19, we can transfer your booking to another suitable date, however rates may differ between dates. Any cancellations or amendments within 72 hrs of arrival will result in our retaining the charge for the first night's stay.

If we are forced to close Lime Wood due to COVID-19 bookings can be transferred or cancelled at no charge.

You can find our full Booking T&Cs here.

Initially, we do expect that the phone lines will be busy and our Reservations team will be doing their best to respond to all enquiries as soon as they can, but we do suggest that where possible you make your hotel booking online.
What to Expect
The experience may look a little different in this new normal, but we hope it will feel the same; ultimately, it will still be our people caring for you and delivering the same attention to detail and personalised service that you are used to at Lime Wood. We want to reassure you that have put measures in place to keep you and our teams safe so that you can confidently enjoy a stay with us.
We firmly believe safety needs to be a joint effort, so we ask you to please play your part in keeping everyone safe. In return we will be doing the same for you.

We will be using LIME WOOD'S 6 safety steps in all areas of the operation.
1. Carrying out Risk Assessments & Staff Training
2. Adhering to Government guidelines for physical distancing
3. Putting in place stringent hygiene measures, including the use of a sanitiser to fog all bedrooms between guests, and public areas 
4. Providing hand sanitiser for staff & guests at every possible opportunity
5. Minimising contact between staff & guests at every possible opportunity
6. Face Coverings/Masks are required for guests in public spaces and for staff where physical distancing is not possible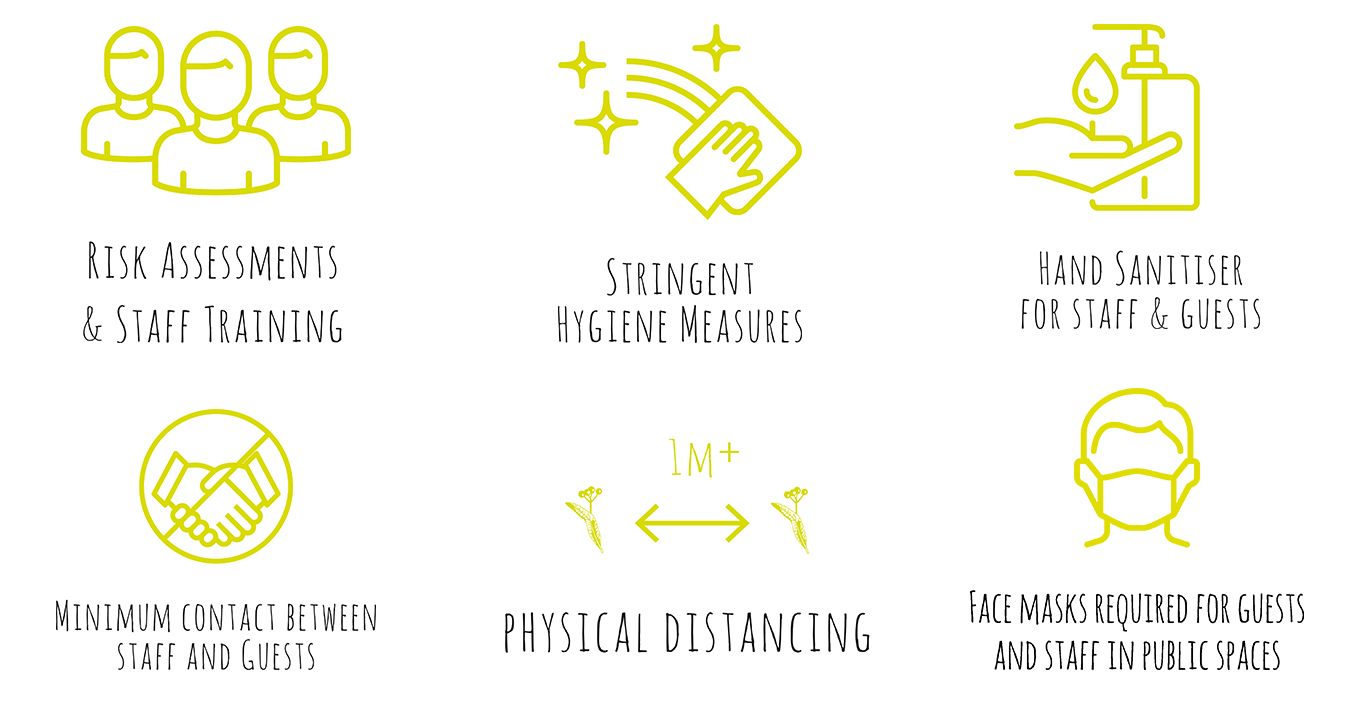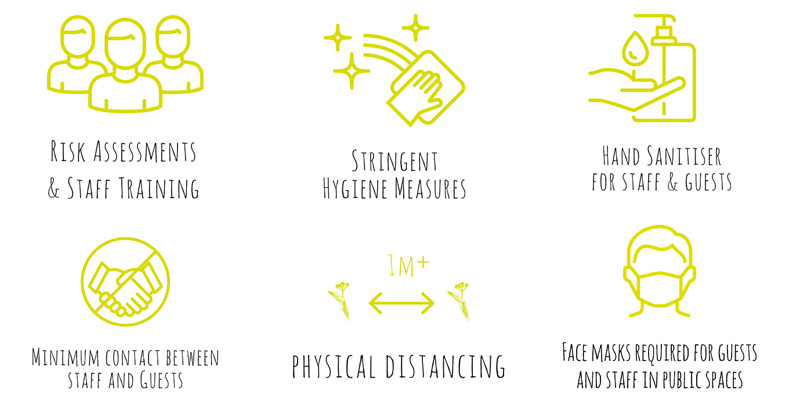 Face Coverings
From Saturday 8th August in England, you must wear a face covering by law in public areas of hotels. So as a guest we require you to wear a mask when walking around the hotel, except if you are seated waiting for or consuming food and drinks.

Please bring your own face covering with you before for your arrival, but we will have some disposable masks available at reception if you forget. We will also be providing disposable masks for hotel guests in a Personal Safety Kit in your room on arrival.

The Government has specifically confirmed that Face coverings are not required for staff in indoor settings where face coverings have to be worn by guests as employees will continue to follow all guidance based on our health and safety assessments and staff training. So, our team, with the exception of our Spa Therapists, will not be wearing masks or visors unless they have personally chosen to do so.

Full Government regulations on Face Coverings can be found here.
From Monday 14th September some of our team will be wearing face coverings/masks in public areas
We want to reassure you that safety of our guests and team is still very much our top priority, and whilst we are still operating by the Lime Wood 6 safety steps we have now also taken the decision to equip all of our teams that are not able to physically distance with face visors, so from Monday 14th September you can expect some of our teams wearing these face coverings. We hugely appreciate your efforts to support our safety measures, by keeping your distance, wearing face coverings and using Bramley hand sanitiser at every opportunity – by working at this together we can all play our part in creating a safe and welcoming environment.
Guidance, best practice and assessment
We're following all government guidelines and working on best practice measures within the hotel. Once confirmed, we have completed all necessary risk assessments and certification to validate our policies; all procedures and assessments will be constantly reviewed and updated where necessary in line with government guidelines.
We firmly believe this needs to be a joint effort between our team and our guests, so we urge you to please use maximum common sense to play your part in keeping everyone safe. In return we will be doing the same for you. Importantly, we will not be allowing any of our team members displaying symptoms inside
our hotels and we would ask you to exercise the same cautionary approach.
Our teams, suppliers and partners
We'll make sure that all of our teams, suppliers and partners are fully aware of our commitments and ask them to comply with our procedures and requests to ensure the safety of our staff and guests.
• Every team member is trained in new health and hygiene related procedures and their responsibility to guests and their fellow team members.  

• New HR policies and processes have been implemented so we're prepared for our teams to return to work.

• We'll take all reasonable steps to follow the government's Covid-19 Secure Workplace Guidelines.

• We're communicating with key suppliers and partners, to ensure that their policies and systems relating to health and hygiene meet our high standards.

• We'll be conducting daily health checks of our teams when they arrive on site.
Keeping you in the Know
We'll continue to be honest, transparent, and up front with you - updating and sharing information with you as soon as possible.

• As we hear the latest Government directives, we'll update all our pre-arrival email communications to provide additional information relating to health and hygiene.

• All guests will be called in advance of their reservation to confirm the details of their stay and to clarify the procedures that we've put in place at that hotel ahead of their arrival.

• Our Reservations team will be equipped with all information regarding staying at Lime Wood and will be able to answer questions that you might have.
Capacity
Following the Government's recent announcement, from Monday 14th September we will no longer be taking bookings of more than 6 people. You can now be from multiple households or one household but 6 is the magic number, and we will be sticking to this – we are sorry if your household or support bubble is over this number but to keep it simple we will only be taking a maximum of 6 people for a booking until further notice.
Due to the constantly changing nature of this guidance, we will be continuously reviewing our procedures related to capacity.
Cleaning
As a hotel and restaurant, we already operate with strict cleaning and health and safety measures, but we are now be taking extra steps to ensure that all areas are thoroughly sanitised, clean and compliant.

• All team members are trained in these new standards and timings of cleaning.
• We will be using Sterizar, a non-toxic, alcohol free, biocidal sanitiser to fog all bedrooms between guests. Each bedroom will be fogged once it has been cleaned and ready for an arrival. Rooms will not be fogged during a guest's stay. There is NO sanitiser on the market which is proven to kill this current strain of Coronavirus as it is a novel virus. However, it has been proven to work on other Coronavirus in the past as well as Norovirus. It does kill bacteria.

• Check In will now be at 4pm, rather than 3pm at all hotels, to allow for more time to clean and sanitise guest bedrooms.

• We are providing hand sanitiser for staff and guests at every possible opportunity, and have significantly increased cleaning of public areas throughout the day.
Physical Distancing
Maintaining a physical distance from others is absolutely essential to stop the spread of the virus, but we believe it does not mean we can't be sociable! We prefer the term physical distancing, so that it doesn't feel like you can't enjoy interacting with the team.

We'll always adapt our service style to adhere to Government guidelines, and have adjusted table layouts in our restaurants, and chair layouts in our Bars and Lounges to allow for the required distancing policy.

There is plenty of space both in the hotel and around the grounds at Lime Wood, so we are not enforcing hard and fast rules. We ask guests to please use common sense and be responsible for your own physical distancing during your stay when moving around the hotel for the wellbeing of both you, other guests and the team. We have asked the team to do the same for you.
Checking In and Out
We're have adapted the Arrival, Check In and Check Out process to speed this up, to support physical distancing and to ensure the safety of all guests and team members. Guests will be contacted with details of exact procedures in advance of their stay.  
We are no longer taking cash, only card payments for all transactions. 
Hartnett Holder & Co
In restaurants it is virtually impossible to remove every risk. Therefore, our policy is to mitigate the risk through best practice and risk assessment. We are taking all necessary measures to deliver minimum contact, ensure hygiene standards and physical distancing.

• Breakfast is served at guests' tables or available as room service, as sadly our much-loved grazing breakfast table is not viable with current guidelines.

• Guests will be asked to pre-book their Breakfast time on arrival.

• Lunch, Afternoon Tea and Dinner reservations will be staggered to support physical distancing.

• A sample menu will be available on the website and the day's menu will be available for guests to peruse in their rooms.
• Tables will be positioned the required distance apart in all our dining spaces, in line with the latest government guidelines.
The Herb House Spa
Following the Government's announcement about the re-opening of spa facilities, including the ability to carry out spa treatments, hold classes and open the pools, we will be continually reviewing all guidance and proposed safety measures to ensure the safest way forward for both our members, guests and team.
Herb House is now open with a selected number of facilities and treatments available. You can find out more here.
Due to government guidance, the steam room, sauna and mud house will remain closed until further notice.
Raw & Cured is open daily from 10am – 6pm serving a full menu
In Curated we have stocked up on all of your favourite body, bath and facial products from Bamford, Sarah Chapman and VOYA, so why not pop in and see us?
HH&Co Backstage, the cookery school
All the things we love about the cookery school, cooking and eating together as group in this intimate cellar space do not sit in line with current guidelines, so the cookery school will remain closed until further notice.
REDUCED VAT FOR THE HOSPITALITY INDUSTRY
As many of you will know the Chancellor recently announced a measure of assistance to help the hospitality sector. From 15th July he has reduced the amount of VAT we will have to pay on our inclusive prices over the next 6 months. You can read more about our response to this support here. 
Stay in the Know!
Sign up to keep up to date with the latest news, offers and re-opening info!
You can be confident when visiting us
At Lime Wood we are certified as AA COVID-19 confident and Good to Go with Visit England which means we have completed an assessment and have been accredited.
The safety and well-being of our guests and team is our highest priority across the hotel, spa and restaurant, and we want you to feel reassured that you are in a safe and secure environment when spending time with us. 
If you have any questions or concerns about visiting us or would like clarification on any of our safety measures and procedures we have in place, please email the team at info@limewoodhotel.co.uk and we will respond shortly.