Coronavirus / COVID-19 Statement
Lime Wood & Herb House are OPEN
Can I book an overnight stay?



Yes - Lime Wood is now open! 
Can I book Lunch or Dinner at HH&Co?
Yes - we are now taking bookings inside at Hartnett Holder & Co! 
Can I book in a group? The rule of six.
Until 19 July
Indoor Dining -  You can book with either up to six people from multiple households OR two households.
Outdoor Dining – Larger group tables can be booked outside on our terraces (subject to availability), please speak to the hotel directly to book
From 19 July
Indoor and Outdoor Dining - We will be taking group bookings of larger than six – (subject to Government review and our availability)
When will the Herb House Spa open? 
The Herb House Spa is now open!
You are now able to book a range of spa treatments or enjoy lunch at Raw & Cured.
Spa Days are also now bookable so that you can spend the day enjoying the facilities and treatments at Herb House. Find out more about our Spa Days here.
What to expect when visiting Lime Wood...
We are following all government regulations and guidance to keep our guests and team safe
We want to reassure you that we've put measures in place to keep you and our teams safe so that you can confidently enjoy a stay with us.
We firmly believe safety needs to be a joint effort, so we ask you to please play your part in keeping everyone safe. In return we will be doing the same for you.

We will be using LIME WOOD'S 6 safety steps in all areas of the operation.
1. Carrying out Risk Assessments & Staff Training
2. Adhering to Government guidelines for physical distancing
3. Putting in place stringent hygiene measures, including the use of a sanitiser to fog all bedrooms between guests, and public areas 
4. Providing hand sanitiser for staff & guests at every possible opportunity
5. Minimising contact between staff & guests at every possible opportunity
6. Face Coverings/Masks are required for guests and staff in public spaces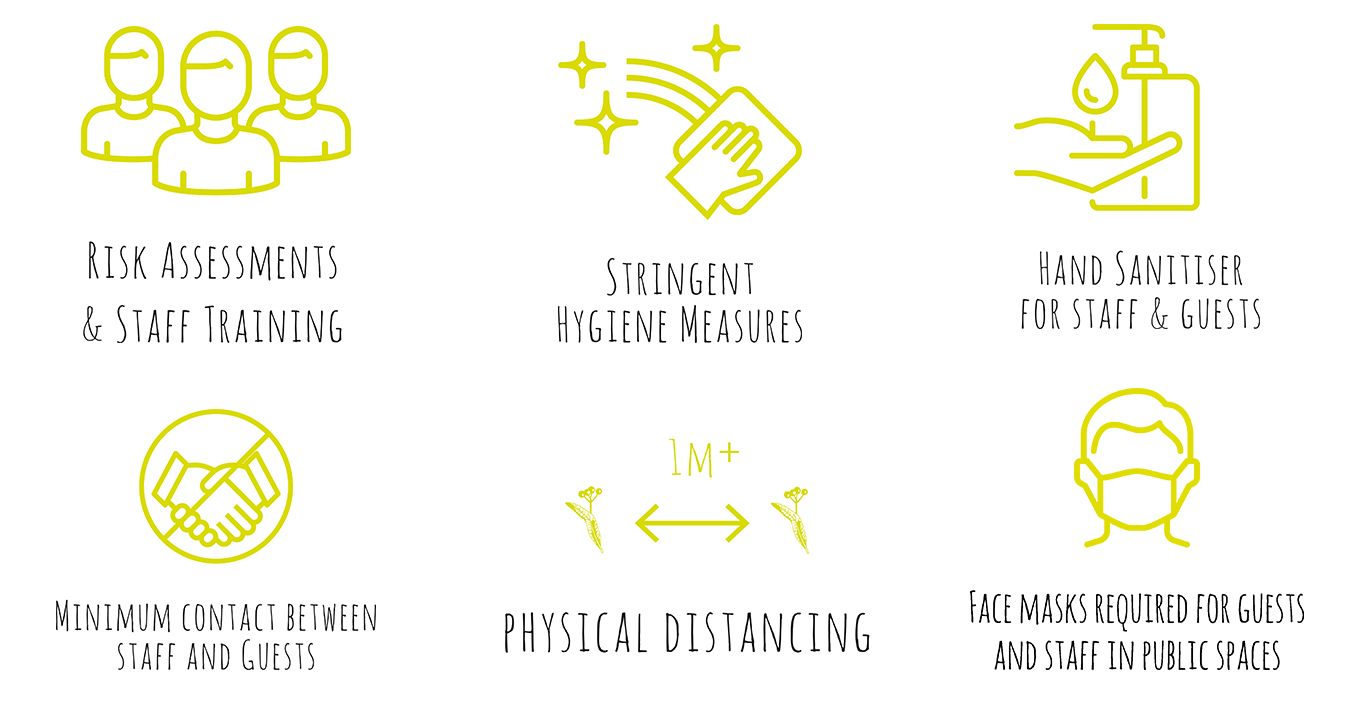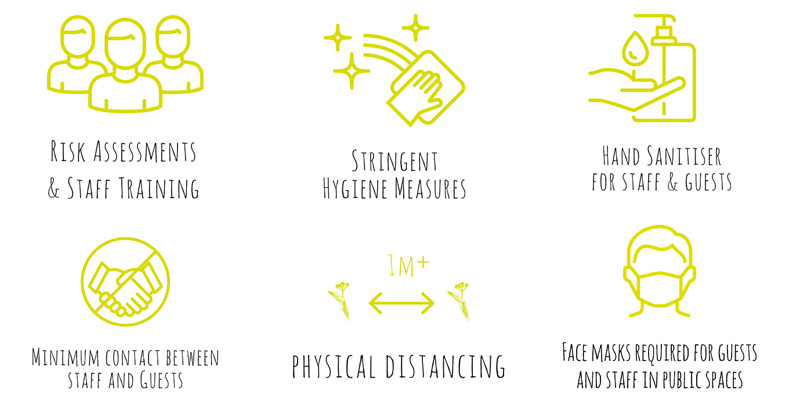 Book with confidence
What happens if I need to cancel?
Hotel bookings can be cancelled or transferred up to 72hrs prior to arrival. If you need to cancel or amend your booking within 72hrs of arrival due to COVID-19, we can transfer your booking to another suitable date, however rates may differ between dates. Any cancellations or amendments within 72 hrs of arrival will result in our retaining the charge for the first night's stay.

If we are forced to close Lime Wood due to COVID-19 bookings can be transferred or cancelled at no charge.

You can find our full Booking T&Cs here.
Can I use a Gift Voucher? 
We have extended the validity of all Gift Vouchers that expired during our period of closure due to COVID-19, or that are due to expire later this year so that you are still able to use them at Lime Wood.
We have extended the validity of all Gift Vouchers that are due to expire in 2021, to now expire on 31st December 2021, so that you still have an opportunity to use them at Lime Wood.
All Gift Vouchers that had their validity extended to March 31st 2021 due to our periods of closure in 2020, will now be extended to 31st December 2021.
All vouchers purchased during our period of closure in 2021 will be dispatched as normal, but are valid for use from 17th May and have an expiry from this date.
Please kindly note that you are unable to redeem a Gift Voucher online to make a booking. Please book your room as normal and the team will refund any pre-payments with proof of your voucher. Please just contact reservations@limewood.co.uk
Stay in the Know!
Sign up to keep up to date with the latest news, offers and re-opening info!
You can be confident when visiting us
At Lime Wood we are certified as AA COVID-19 confident and Good to Go with Visit England which means we have completed an assessment and have been accredited.
The safety and well-being of our guests and team is our highest priority across the hotel, spa and restaurant, and we want you to feel reassured that you are in a safe and secure environment when spending time with us. 
If you have any questions or concerns about visiting us or would like clarification on any of our safety measures and procedures we have in place, please email the team at info@limewoodhotel.co.uk and we will respond shortly.