The Lowdown with...Sarah Chapman
Find out what our go-to skincare guru has been getting up to at home during lockdown! 
One of London's most sought-after facialists, Sarah Chapman's client roster features A-list celebrities, beauty editors and discerning facial obsessives. Sarah's Skinesis clinic, tucked down a quiet street in Sloane Square, is the capital's number one destination for those pursuing perfect skin. Seamlessly melding Sarah's signature 'gymnastics' massage technique with high-tech wizardry and potent cosmeceutical products, a Skinesis facial delivers calm, rejuvenated skin that glows with youthful radiance.
Herb House is one of only three destinations in the UK, including the Chelsea flagship, where you can experience a Sarah Chapman facial! 
We caught up with our go-to skincare guru to find out what she has been getting up to at home during lockdown...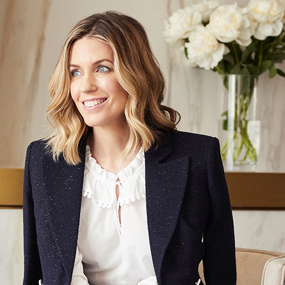 What are you cooking at home?
Since lockdown I am really enjoying fresh fruit and veggie deliveries and have recently signed up to 'Food on The Table' by Abel and Cole. I think my go-to quick supper would have to be salmon en papillote – it's super easy, just throw together the fish and veg in a parcel and pop in the oven, or alternatively poach in a pan with herbs and peppercorns. Salmon is also a really good source of Omega 3 and these essential fats and oils help our cells lock onto moisture keeping skin nourished, supple and hydrated from within. My inspiration is coming from Amelia Freer, Melissa Helmsley and Louise Parker books although it is not that healthy every day!
What are you listening to?
If working I tend to select a coffee house playlist on Spotify or listen to Jazz FM – it avoids me getting too distracted especially when I am deep in thought.
Favourite podcasts would have to be 'How I Built This' by NBPR Guy Raz. It's a wonderful and fascinating insight into how today's leading entrepreneurs built their businesses, the challenges they faced and how they were overcome. I am also really enjoying Liz Earle Wellbeing at the moment – a great collection of health talks and interviews with leading specialists.
What are you reading?
I am currently really enjoying having some thinking time and am brewing up lots of new product formulation ideas, so I am reading clinical data on ingredients and research documents. To counterbalance this I love to have a flick through Vogue and other glossies and I am reading some home and interiors magazines for inspiration.
Drink of choice?
Everyone that knows me knows I love my tea. I adore English Breakfast but also more unusual teas such as Kukicha Twig Tea which is really good for alkalising the body, it feels very therapeutic and has a real roasty taste. I do have one condition when it comes to drinking tea – no matter what the tea is, it must always be served in a china cup! It just tastes that much better.
Where will your first travel destination be?
I think we are all longing to get away right now, quite simply because we can't. I really miss being by the water, listening to the waves and having sand between my toes… So a beach would be my first choice! Preferably somewhere really beautiful with some sunshine – not too far for a quick escape and just the tonic! I am ready with my Mr and Mrs Smith list!
What will be the first restaurant you go to?
Without a doubt it has to be Scotts in Mayfair. It is indulgent but has a beautiful array of market fresh fish, seafood and an elegant oyster and champagne bar – a glass of fizz certainly also wouldn't go a miss!
What are you watching?
I really enjoy a good British drama and recently got into 'A Mother's Son' on ITV – a really compelling psychological thriller and Killing Eve is back on for some intrigue. I also think we are all relying quite heavily on a good Netflix binge during this time and catching up on films we have missed.
Current beauty regime?
Every morning I begin by cleansing with my Ultimate Cleanse before applying my skincare routine; stem cell collagen activator and Age-Repair Concentrate, to firm my skin and treat signs of ageing. Then I apply Dynamic Defence Concentrate as my day cream; it has SPF15 for essential daily UV protection and it also makes a great make-up base and adds luminosity to the skin. If I want to wear less make-up I will swap this for Skin Insurance which has a beautiful adaptable tint that gives you a healthy, post-facial glow. I also use Eye Recovery around my eye contour as this lightweight formula has been especially formulated to respect the delicate skin in this area and neck and chest complex for the decolette.

In the evening I cleanse again although since lockdown I am going make-up free each day but cleansing is still essential! I then apply my Eye Recovery around my eyes before indulging in my favourite night-time product, Overnight Facial, which hydrates, repairs, comforts and brightens my skin by morning. I apply my targeted Neck and Chest Rejuvenating Complex to treat crepiness, sagging and sun damage in this often-neglected area, and Overnight Body everywhere else, I then take my overnight facial supplements, apply some hand cream and foot cream, spritz my pillow with sleep spray then off the bed!
Do you have a favourite way to keep active?
My favourite part of the day is our daily exercise allowance outside of the house made all the very much better by my sweet Italian Greyhound Sidney. Sidney has lots of energy and so every morning we go to the park for a good run around. I use this time to really take a break and embrace the outdoors, something so many of us have taken for granted for so long.
Also, slightly daunting but my Peloton bike arrived this week. I have since done 2 x 20 minute sessions and it certainly elevates the heart rate! – the instructors are also really engaging and motivating so I plan to ramp this up as much as possible whilst at home - wish me luck…
Your lockdown outfit?
Activewear, loungewear and PJ's. My favourite are my stripey pyjamas by Olivia Von Halle – they are super comfy and made of silk. Silk is also known to help the skin maintain the metabolism of the surface lipid film, prevent skin aging, promote blood circulation and keep the skin moist and smooth. So not only are my PJ's super stylish they are also working wonders for my skin whilst I sleep.
Any tips on making lockdown easier?
We're have all been adjusting to the changes in our daily lifestyle over the past few weeks. Spending more time at home, probably experiencing more stress and even changes to our diet and skincare regime. We all need to make ourselves feel as good as possible and to really focus on staying healthy. Eat well, exercise, sleep and maybe even treat yourself to an at home facial – we have some great skincare tips on our @skinesis Instagram page.
Further to this, communicate. We are so lucky to live in an era where technology allows us to see friends and family, although there is something very special about receiving a good old fashioned letter. What ever the means – let your loved ones know you are thinking of them and spread a little kindness near and far.
Find out more about Sarah's treatments at Herb House here. You can buy Sarah's range of products from the Herb House when it is open, but whilst it is closed you can still stock up from Sarah's website.